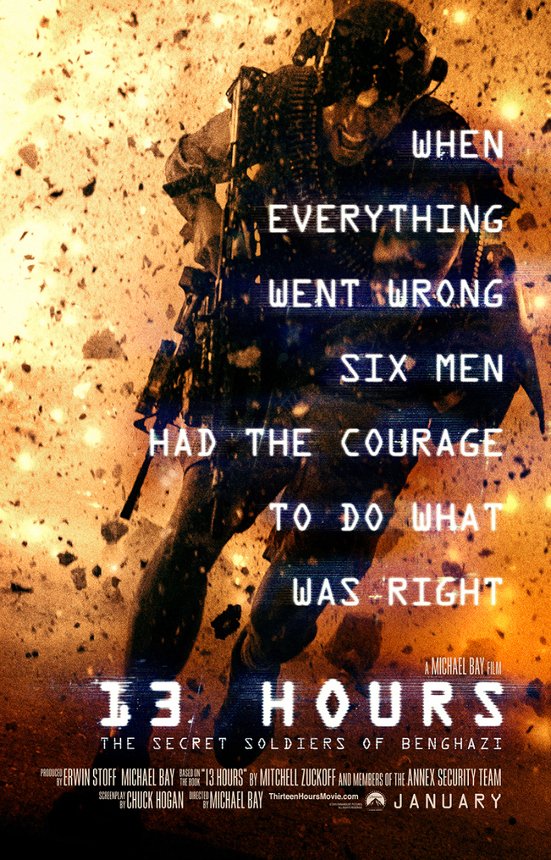 <Review by: Sailesh Ghelani>
Directed by Michael Bay. Starring John Krasinski, James Badge Dale, Pablo Schreiber, Max Martini, Toby Stephens, David Costabile, Dominic Fumusa, Alexia Barlier, Wrenn Schmidt, Peyman Moadi
Running Time: 2 hours 24 minutes
If you're going for 13 Hours, pack a pill for headaches and if you get vertigo, a sickness pill too. Bay's shaky camera hits death-defying proportions in this messy flick about a chaotic situation.
After Libya liberated itself from the tyrannical and long rule of General Gaddafi, with the help of the west of course, a group of CIA agents are stationed in Benghasi at a covert location just near a makeshift American embassy. They are protected by the GRS: a group of tall, hunky, military-trained guys who give up their day jobs and families to come to places like this. They have local militia on their side but can't really trust them. They're constantly on edge and they should be. Even friendly American forces that occupy a country for too long are considered enemies at some point.
The film starts off with a lot of American bravado, beefy security guys working out, mouthing off, and parading around like they own the country. A US Ambassador arrives with his own security and they help out there. But, very soon, they realise that they have few friends in Benghazi. And then the fighting begins, the faceless hordes of Libyans attack the embassy, the GRS men aren't allowed to intervene until they take matters into their own hands. And all hell breaks loose. The camera, in the beginning, sweeps across vistas and montages of the men, giving it a very surreal look but actually boring the pants off the viewers. As the fighting begins the camera shakes, swoops, shifts, goes up and down and all around violently assaulting your eyes in an effort to make you feel like your part of the action.
The 'enemies' come and they're shot down. The Americans advance and shoot the 'enemies'. No one comes to help. Which of course is also the point of the film, to show us how this situation was badly handled and the intelligence was flawed. How using locals to help was not the best idea considering at some point they couldn't tell the difference between friends and foes.
Bay tries to focus on the individual GRS men, who video chat with their families and miss them so much and yet put themselves in harms way for money and adrenalin and perhaps a sense they're doing it for their country. But you don't believe that.
13 Hours is way too long and repetitive to be enjoyable or even insightful. And treating it like a Transformers film doesn't help the case.
PS: What also gave me a headache was all the American slang and military talk that whizzes past you and makes no sense at all.