Our special correspondent in 'Torono', Swati Sharan has been mingling and movie watching at the prestigious and celeb-filled Toronto International Film Festival 2013 especially for Minority-Review after we received press accreditation from them.
Read our exclusive coverage and watch the videos where she asks questions to celebs like Pierce Brosnan, Emma Thompson and Liam Neeson here.
Here are her reviews (1st Set) from some of the many films being screened at TIFF 2013
The Lunchbox (Dabba) (4/5 star rating)
Irrfan Khan, Nimrat Kaur, Nawazuddin Siddiqui | Directed by: Ritesh Batra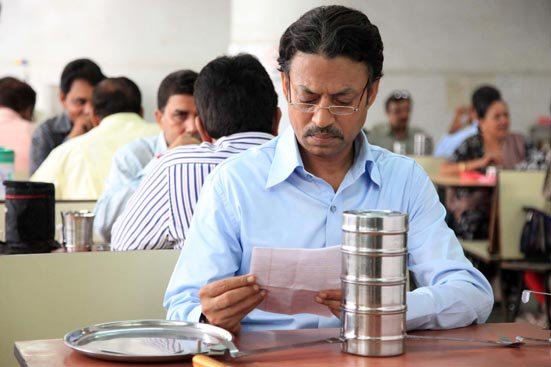 Ila (Nimrat Kaur) is a woman with an indifferent husband.  She makes tiffin lunches and Saajan Fernandes (Irrfan Khan) crosses her path by accident when Saajan gets Ila's husband's lunch. To notify him of this, Ila sends a letter inside the tiffin box and therein begins a blossoming friendship through a series of letter exchanges.  What unfolds are life transforming perspectives on what each should do with their life as well as appreciation of the smaller day to day joys.
Brilliantly executed, Ritesh Batra achieves the wholesomeness of a Pakeezah and Amar Prem in the modern age. Simultaneously, he also depicts the fallacies of our fast-lane era and the consequent break downs of big city life and pressures.
Tim's Vermeer (3/5)
Colin Blakemore, David Hockney, Tim Jenison | Directed by: Penn and Teller
Johannes Vermeer is a revered painter from the 1600s from Amsterdam and this documentary tries to capture the mystery behind his painting technique. For the standards of his time, the level of photo realism in his paintings stood unparalleled because the images in his paintings come out much like how a camera sees it. But unlike the other artists, Vermeer never left notes behind on how he achieved this effect. Inventor Tim Jenison then uses his technical background to recreate Vermeer's painting and sets out to prove two points.
One is how a non-painter like himself could actually replicate this using a camera obscura and a rotating shaving mirror with a similarly re-enacted scene. The other is that he is suggesting a strong possibility of how Vermeer actually did do his paintings given the availability of the camera obscura at that time.
Witty and engaging, seeing Venison recreate the experience through material and setting and re-enactment can be fascinating to watch and he takes us jet-setting across the world to recreate not just the painting but the whole period.
The Invisible Woman (4/5)
Ralph Fiennes, Felicity Jones, Michelle Fairley, Kristin Scott Thomas | Directed by: Ralph Fiennes
The film recounts the story of Charles Dickens' (Ralph Fiennes) lover Nelly Turnan (Felicity Jones) after his death. Nelly was an actress in his plays and is believed to have had an affair and child with him after Dickens' separation from his wife Catherine. Tussled between Dickens' public image of the family man and his private life where she was tucked away, she found herself becoming the invisible woman. And yet she could inspire characters from some of Dickens' most famous works like Nellie from Great Expectations. The film then shows her grappling with her love for Dickens even after he has died versus holding back her feelings and who she is in the face of a conservative society.
Costume and setting have been captured with great accuracy. Fiennes and Jones have inhabited the skins of these two real life figures ever so thoroughly. There are points which one can find vague or a bit confusing as Fiennes tries taking us back and forth between the present and the flashback scenes because they don't always melt into one another. A little labelling could have helped this point. Overall however, the film direction is strong and is worth seeing for those who appreciate Fiennes and Jones and for Dickens lovers.
MannoKaamna (3/5)
Directed by Stephanie Spray
MannoKaamna is a famous Nepali pilgrimage site and the documentary is about different people's journey to it through aerial cable cars. Through their eyes the audience also get a lens for the Nepali landscape. Directed by Stephanie Spray, filming from that high in such limited space and forbidden terrain, she and Valo Panchez do an amazing job of capturing these glimpses with Himalayan backdrops. While Spray takes us through the different cable car stations leading to the temple, it would have been nice to see the actual temple for which there is such clamour even if just from the outside.
Getting the perspectives of travellers from different walks of life including old, young, traditional or modern also works well for the film. For some, the film can appear slow at 2 hours. All in all, the beauty is breathtaking and if put to IMAX, this film has the potential for being an even more mind-blowing experience.
The World of Goopi and Bagha (3/5)
Directed by: Shilpa Ranade
Originally a children's story written by Satyajit Ray's grandfather, Ray adapted this for the Bengali silver screen as Goopi Byne and Baagha Byne. Now, Shilpa Ranade has brought this fable to life through animation with contemporary appeal for today's children in Hindi with English sub-titles.
Goopi and Bagha are aspiring musicians who bump into one another after being kicked out of their villages for their singing and dholak-playing. They are both exiled into a ghost land. The King of Ghosts gets impressed by Goopi and Bagha's talents and grants them 4 wishes with the 4th wish getting saved for a future time. They then wind up travelling between the lands of Hundi and Shundi hoping to be musicians but get appointed as peacemakers instead for both these disputing lands. Will they realise their dreams for becoming musicians?
The animation is highly vibrant and speaks volumes for the technical improvements in independent Indian animation over the years.  Though it is computer animated with some western approaches like Elizabethan-style jester drawings, it has also got traditional Indian textile woven into the backdrop of characters and landscapes too.  The songs by 3 Brothers and a Violin also work well for the film. There are points though where there are generous doses of getting bathroom humour. Overall though, it's engaging and imaginative.
I Am Yours (1/5)
Amrita Acharia, Ola Rapace | Directed by: Iram Haq
The story is about a camisole-gallivanting Norwegian Pakistani named Mina who is an unstable single mother and actress who can't stick to anyone or anything for too long. She faces the cross-cultural divide with her traditional parents antagonising her for the shame her liberal lifestyle brings on them. Mina also has to deal with her love for a Swede named Jesper (Ola Rapace) who loves her but isn't prepared to accept her kid.
It's a clichéd attempt at showing desis raised abroad as being messed up. There's also so much skin slithering and graphic display of intimacy to the neglect of the plot development. One doesn't know what Haq was trying to achieve other than to get herself into a festival. But if you want to get taken seriously at a festival, try starting with a story line instead of resorting to all this vulgarity. The actors are great but they are sourly wasted in this film.
Change Your Name Ouisama (3/5)
Change Your Name Ouisama is a documentary about how Muslims in Canada were marginalised after 9/11 and the discrimination they have faced since then. The title was inspired by an incident where a youth named Ouisama was being encouraged by fellow Muslims to change his name for fear he would be harassed if people heard his name. Commissioned by OMNI TV, this documentary traces the lives and mixed reactions of the different Muslims living in Toronto and the many misconceptions, which they feel need to be cleared when engaging with the mainstream society.
The documentary is informative and certainly opens room for debate on this socio-political front facing Canada since 9/11.
 Press Conferences and WINNERS LIST here
Read the 2nd Set of Film Reviews (including Gravity and Mandela: Long Walk To Freedom) from TIFF 2013 here 
Read the 3rd Set of Film Reviews (including Qissa and Words & Pictures) from TIFF 2013 here
Read the 4th set of Film Reviews (including Shuddh Desi Romance and The Love Punch) from TIFF 2013 here)