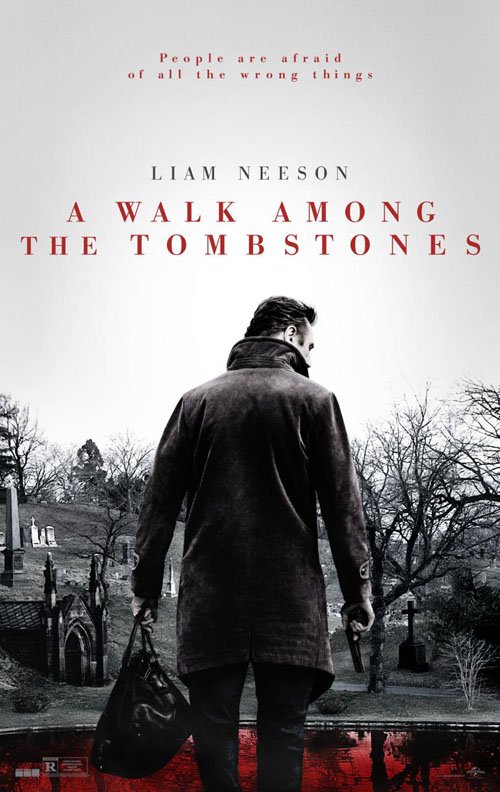 <Review by: Sailesh Ghelani>
Directed by Scott Frank. Starring Liam Neeson, Dan Stevens, David Harbour, Boyd Holbrook, Adam David Thompson, Brian 'Astro' Bradley, Sebastian Roche, Mark Consuelos, Olafur Darri Olafsson
Having watched the trailer of this film at an earlier press show I wasn't too eager or expectant for something brilliant. And while the film isn't brilliant, it certainly is a frighteningly effective and edgy mystery-thriller that delves into the psyche of psychopathic killers.
Based on a Lawrence Block (an American crime writer) novel, A Walk Among The Tombstones features an ex-cop turned private detective (unlicensed) called Matt Scudder (Liam Neeson). It's set in 90s New York and quickly sets you up with his background and his less than happy life visiting AA meetings and being visited by drug addicts who need his help.
The drug addict's brother (Dan Stevents) is a drug trafficker whose wife had been kidnapped for ransom and then killed after the ransom was paid off. Now he wants Scudder to find them and pay for it. The private dick initially refuses to take up a job from a drug lord but after he hears the grisly details of the wife's death he realises that he needs to do something. Partly because of the vile act that was committed and partly because he's looking for redemption of a high order.
Liam Neeson is old hat at portraying the grizzled and overburdened hero who is down and out. Usually he's on some sort of substance abuse or his character has his own daughter held for ransom (the Taken films). In A Walk Among The Tombstones he's not shooting up bad guys (well, not until the end). He's investigating; something we rarely find in the instant gratification, CGI-filled films of today. The characters he strolls in to interview are strange, weird and downright scary. It makes you think: "Is everyone in America crazy? Does no one help you unless you offer them money? Are they all on drugs and out to shoot people?"
Writer/Director Scott Frank (Out of Sight, Minority Report, The Lookout) makes interesting use of very few lines of dialogue. There's more said in a frame without words and some scenes like the ones that show the two kidnappers assaulting their victim are done so aesthetically that at first you can't even tell what it really is. Of course there are others where the violence is carnal more in the effect of what is being said rather than shown. And several frames are shot with an eeriness that doesn't need any of that clichéd horror film music.
It's very hard to find a film where the villain(s) are detestable and form almost monstrous proportions, terrifying you. It's not quite there but Hannibal Lector comes to mind. A Walk Among The Tombstones is a dark and scary film that will remind you, as one of the evil duo says, "People are afraid of all the wrong things."