<Review by: Suniti Jham, a compulsive shopaholic and aspiring stylista, she's going to help you to keep it fashionable>
Amaira is a recently launched jewelry brand. The women behind the creation of this brand are Sanchi Nasta and Gurmeet Rathod. I checked out Amaira's Facebook page and found their collection to be slightly more on the metallic side. What is alluring in Amaira's collection is that it has a seemingly rustic and tribal touch to it. The pieces have a vintage feel with undertones of earthy colours. Personally, I love metallic pieces because these can be worn in a formal/casual way and can also be paired up with an Indian/Western outfit. I think that is the interesting part about Amaira because there is a lot of versatility with regard to the metallic designs.
I spoke to Sanchi and Gurmeet and below is a summary of what Amaira is all about:
They mentioned that 'Amaira' means 'forever beautiful' and they're also aware of the ever changing trends and styles and hence they look forward to provide a collection that can be worn at any season with any style. Together, they love jewelry but their disappointment arises when they can't find diverse pieces in terms of design, quality and pricing and so in their collection they wish to fix all these flaws.
Both of them are passionate about their jewelry and therefore they do a lot of research for their designs because they've rarely come across different designs in the metallic category or they've seen magnificent pieces at exorbitant prices, here at Amaira they provide an affordable range with a never-seen-before collection.
Here is a sneak peek into Amaira's collection: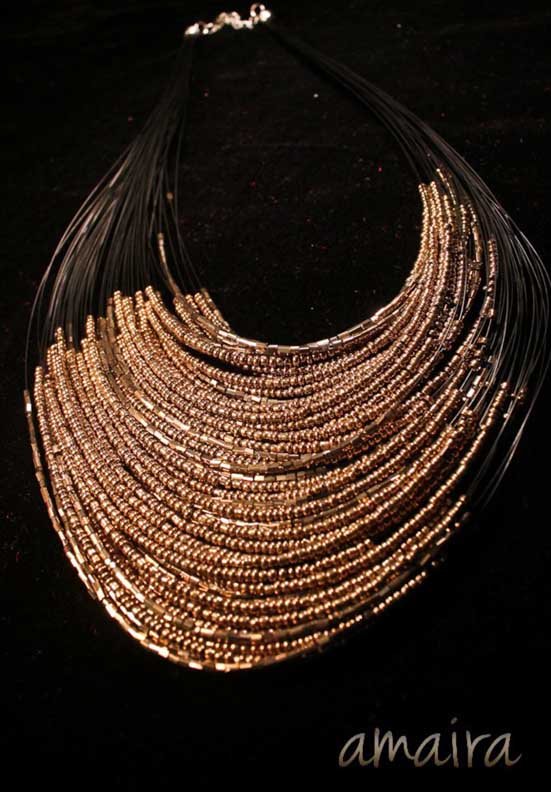 What's my take on this?
Considering the fact that I love metallic jewelry, I find this brand pretty captivating. It also provides a huge range to choose from. The statement neckpieces, hand cuffs, rings etc. are worth a style steal. I adore these because you can pair them up with your favorite LBD or tone them down with your work-wear outfit. I guess the girls are being true to their word of their collection being 'ever green'  because this collection has no age-barrier, a youngster or an elderly person could carry this off well!
Check out Amaira's Facebook page here.