<Review by: Amit Divekar, a fashion designer and uber stylish guy with an eye for what's right and what's fright!>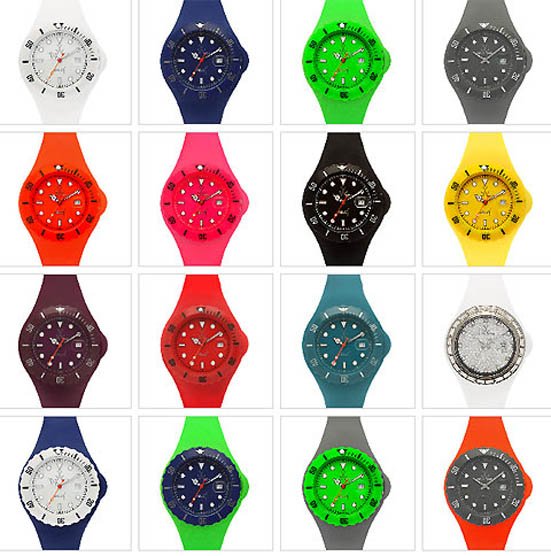 I love big colourful watches, and I cannot lie! And I always have. I remember when I was little I used to put on my dad's fancy watches to feel all grown up. Then finally I was old enough to be allowed to wear a watch of my choice. This watch in question was a Swatch. My first watch… just like my first love. Incredibly special and unforgettable. It had a white rubber strap and a white dial, with fluorescent orange, green and yellow overlapping squares. The hands were neon pink and silver. It was funky, trendy and eye-catching. It always fetched a lot of "Wows" and I felt elated every time I wore it! It's funny how some things never change. Today, at thirty-something, I still wear big bright-coloured watches and still feel ecstatic wearing them. And what's super-duper about my little fetish is that these glorious timepieces are totally 'in vogue'!
On a jaunt to Singapore last year I was in heaven (watch wise)! It was like a rainbow watch bomb exploded in the malls and on the street shops! They came in all kinds of sizes, shapes and in the wildest array hues and prints. Toons, gamers, graffiti, camouflage, iconic, celeb images and what have you… Made of any and every material one could imagine: rubber, plastic, foam, wood, metal, acrylic, leather, suede, elastic, PVC, cloth etc. And very reasonably priced. Like a kid in a candy store I went a little berserk and before I knew it I landed up with seven of them!
I'd recommend every person, male or female, should possess at least one of these colourful accessories in their wardrobe. The reason is simple. They brighten up, enliven and add youthfulness to every look. They can carry a very basic or even dull look to a higher ground!
Imagine a drab Wednesday… lotsa work to finish… lotsa running around to do… you don't feel like dressing up at all… you have just put on a plain white or black tee, a pair of jeans and canvas shoes. Then suddenly you strap on a strawberry red watch around your wrist. Trust me it will become the highlight of your ensemble and of your day! You could even wear one of these 'toys' with a formal-ish look. Dark jeans, a neutral grey/khaki distressed print tee, say an off white casual jacket, maybe even a charcoal hat. And then ultimately… a giant acid green watch! What a fab look this will make. I have even encountered slightly more adventurous people doing a whole colour palate. I remember a bloke at a brunch once wore a salmon pink tee, pale green jeans, silver shoes and an electric blue watch. Hey… I say if you can dare it, wear it! He carried off this ensemble with a dashing attitude and made it look great.
In fact just today, it was sweltering and I had to step out. I chose a comfortable light blue tee, with a pair of beige shorts and tan loafers. But it was the tangy lollypop orange watch that I wore that made me feel happy and dressed up! I am not one to cramp my style but, if you are not a very 'colourful' person, you needn't despair. You can pick a white, a steel grey, an army or emerald green, a teal, or maybe a deep purple watch. Works just as well. Be subtle yet make a statement.
Actually, Swatch again (they should pay me for advertising!) has come out with an amazing collection of watches in tons of beautiful colors. I am certain there's something to suit everyone's taste. And needless to say, by now the street shops of Colaba and Linking Road, Bandra are full of them. If you shop here, then be careful and pick up a piece that is different from the others. Otherwise you might find many other undesirable elements wearing the exact same watch, and that can be tragic!    
Model: Chirag Patil