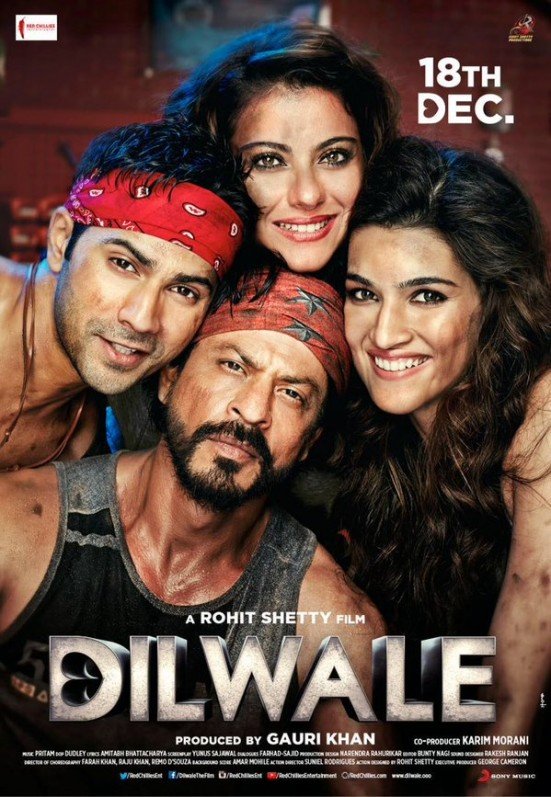 <Review by: Sailesh Ghelani>
Directed by Rohit Shetty. Starring Shah Rukh Khan, Kajol, Varun Dhawan, Kriti Sanon, Boman Irani, Pankaj Tripathi, Mukesh Tiwari, Sanjay Mishra, Nawab Shah, Kabir Bedi, Vinod Khanna, Johnny Lever
 Running time: 2 hours 35 minutes
The look and feel of Dilwale is as dated and gaudy as Shah Rukh Khan's performance and wardrobe!
Rohit Shetty is known for his loud set pieces, loud music, over-acting actors and shiny cars in his films. He's also stuck in the 90s, I think; and not in a good way. It's surprising how all these actors who are exposed to so much international cinema can't see how ridiculous this script and direction is. Or is it that they have been effectively convinced that this is what the Indian audience wants to see? After all, they probably only care about the money now that they are pretty much world famous celebrities.
Watching Dilwale I felt like a packet of Gummy Bears had vomited over the screen. Devoid of any taste, class or visual appeal, Dilwale relies on ham acting and lots of stupid jokes as well as the chemistry between Shah Rukh Khan and Kajol. That chemistry is certainly there in places and thanks to Kajol, the acting isn't all completely over the top.
SRK plays a man with a notorious past who now lives a life repairing souped-up cars with his younger brother Veer (Varin Dhawan). But the past soon catches up with Raj/Kaali (Shah Rukh Khan) and so does an old romance. We are taken back in time to see where it all began and what has lead us to this point, which is a good thing considering the first half of the film is pretty much nonsense what with Veer's love interest (Kriti Sanon) and the local Goa goon King (Boman Irani) trying to force everyone to sell his drugs.
I have to say that the audience did laugh a lot and I didn't detest the movie. It kept me awake post 11pm for its over two and a half hours duration. Kudos to Kajol for looking beautiful and acting wonderfully amidst a sea of questionable performances that were probably orchestrated to look that way considering audiences seem to like the slapstick and over the top, crass acting.
Some fine talent like Pankaj Tripathi, Mukesh Tiwari and Boman Irani are not given a chance to shine though since comedy was a priority and Johnny Lever and Sanjay Mishra do deliver with their crass and out-dated jokes.
SRK looks great with his beard but he's brought nothing new to this role. Varun Dhawan is sexy but irritating showing no acting finesse at all.
Relying on their past fame and familiarity, SRK and Kajol fail to live up to the expectations mostly due to a lazy script, horrible direction and cinematography and absolutely no hint of a deft touch while handling the romantic aspects of the film.
A good film doesn't have to hijack another film's release to be successful. And it's about time this sort of film stops being made.