<Review by: Sailesh Ghelani>
Directed by Daniel Barnz. Starring Jennifer Aniston, Sam Worthington, Anna Kendrick, Adriana Barraza, Chris Messina, Felicity Huffman, William H Macy
Running time: 1 hour 38 minutes
Cake is a weird film where Jennifer Aniston as Claire Simmons is all down and out and in a lot of pain because of something mysterious that happened involving the loss of her child. She gets high on pain killers and imagines things like a former support group friend named Nina (Anna Kendrick) who killed herself and comes back to give Claire some advice. But Claire wants to wallow in her self-pity and thoughts of suicide.
She's shuttled around and cared for by her diligent housekeeper Silvana (Adriana Barraza) and shares some moments with her ex-husband (Chris Messina). But it's Nina's grieving widower (Sam Worthington) that she is intrigued by.
Cake plods along at points and you wonder to what end. It's only Jennifer Aniston's gripping portrayal that makes the pain bearable to the viewer. Of course things mellow towards the end but by then you wonder if a piece of cake wouldn't have been better than watching this movie.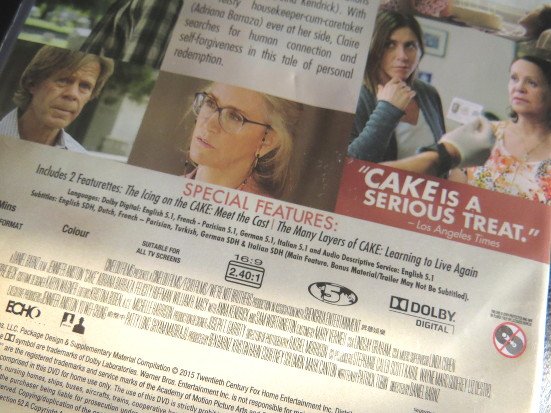 SPECIAL FEATURES
1)   The Many Layers of Cake: Learning to Live Again
This bonus tells us the research that went into getting ready for the role, as Jennifer Aniston had to behave like a person who was in chronic pain. There are interviews with her, the director David Barnz and producers.
Cake was meant to depict how we all go through pain and loss and pull ourselves up and heal.
2)   The Icing on the Cake: Meet the Cast
Director David Barnz talks about Jennifer Aniston's role as Claire. She was nominated for several awards for her performance. Sam Worthington and Felicity Huffman also talk about the film.
DVD Courtesy Sony DADC
Rs 599/-   
For More DVD Reviews Click Here