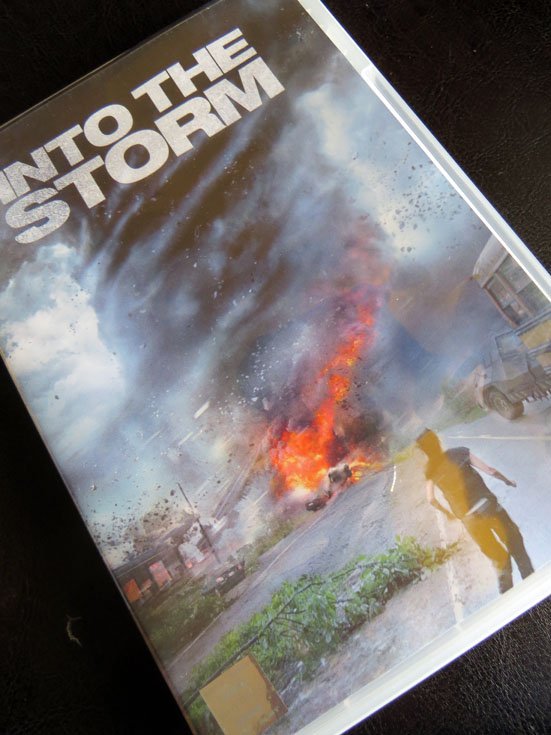 <Review by: Sailesh Ghelani>
Directed by Steven Quale. Starring Richard Armitage, Sarah Wayne Callies, Matt Walsh, Max Deacon, Nathan Kress, Alycia Debnam Carey, Arlen Escarpeta, Jeremy Sumpter, Lee Whittaker
Shot in similar style to Paranormal Activity, Into The Storm is a sort of point-of-view film about tornadoes and people trying to get in to one as well most trying to get out of one.
Disaster movies are always fun and one that involves a tank designed to get into the eye of a tornado that ends up battling multiple twisters – as well as one on fire – is exceptionally so.
The film has several characters, most of whom possess a camera and use it for different purposes. So the filmmakers give you plenty of shots from the point of view of cameras used by the characters as well as some in which the characters talk directly into a camera used on the actual filming. This makes it interesting at times and at others a bit mystifying.
Widower Vice-Principal Gary (Richard Armitage) and his two sons Donnie (Max Deacon) and Trey (Nathan Kress) are the primary characters who get stuck in the devastation on their home town of Silverton. Donnie is shooting a video project with his love interest Kaitlyn (Alycia Debnam Carey) when they're buried under rubble by a passing tornado. Gary and Trey must set out to find them and encounter the storm chaser Pete (Matt Walsh) and his tank the Titus. His fellow 'weatherman' Allison (Sarah Wayne Callies) strikes up a bond with Gary and sets about helping him find his other son.
Through all this we are treated to multiple funnels of twisters wreaking havoc across the town. In the Special Features of the film we learn that a lot of the devastation was done with real effects like huge wind blowers and cars being flung around, which makes it all the more frightening. The effects are impressive enough to keep you riveted.
While there's not much character development, the actors are all pretty satisfactory in depicting anguish and gravity. There's also a pair of hillbilly YouTube 'sensations' who take pleasure in getting in the way of the storm so they can boost the hits on their channel. Being American, they are never unbelievable in their craziness!
There's a subtle message about climate change and taking care of the planet before it 'takes care of us' in there as well. Into The Storm is one of those little B-films that are just fun to watch as popcorn entertainment when you want some mindless destruction to disappear into.
SPECIAL FEATURES
Fake Storms: Real Conditions
The only feature on the DVD, this one shows us how the team went about creating some of the storm conditions with huge fan blowers and tall cranes called rain towers that drenched the actors most of the time during filming. All the sets evoked devastation.
"It was a lot of fun," one of the actors says about filming the stunts on the rigs. The whole production gave the actors something real to react to; using real effects as well as CGI was also a factor in giving realism to the shots.
DVD Courtesy Sony DADC
Rs 599/-     
For More DVD Reviews Click Here