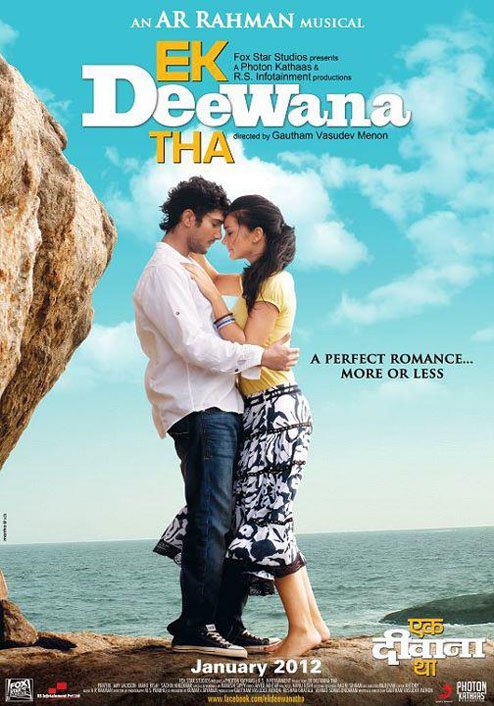 <Review by: Tushar A Amin>
Directed by Gautham Menon. Starring Prateik, Amy Jackson, Manu Rishi, Sachin Khedekar.
Bad acting, meet lame old story.
There is no escaping love stories when it comes to films. The only hope is an inventive approach, a new perspective, a different treatment, anything that sidesteps the dated 'boy meets girl' cliché. It is this elephant in the screening room that the gen next of filmmakers is trying to find a way around with films like Band Baajaa Baaraat or the most recent Ek Main Aur Ekk Tu. So, when a film like Ek Deewana Tha dishes out an ostentatiously dated premise where the conflict is difference of religion or parent's disapproval, the least you expect are some decent performances that would compensate for the lack of originality.
With Prateik and Amy Jackson as the lead pair, Ek Deewana Tha robs you off even that one hope. The result is an excruciatingly fickle, slow, overdrawn and repetitive fare that would any day be trumped by a Parents' Day performance at a local kindergarten.
The acting is uniformly stilted and self-conscious. This is the second strike for Prateik. Goofy? Not. Romantic? Even though his hands are forever channeling Shah Rukh Khan, not. He should now explore the indie circuit where his limited range finds a more tailored channel. He may not get 13 chances like the others. Amy Jackson should borrow a page from Katrina's manual and choose wisely (read superstars as co-stars) if she's to survive here. She is neither dazzlingly beautiful, nor super talented to carry off this particular film. But then, we've had Nargis Fakhri!
Filmmakers like Mani Ratnam and Imtiaz Ali have proven that romantic films are all about moments and chemistry. The writing of Ek Deewana Tha tries hard but lacks both. The screenplay and characters have a tiring and trying fickleness about them. The editing is slipshod and at 2 hours and 20 minutes, the film is overdrawn by almost an hour (that feels like an eternity). AR Rahman's soundtrack is below average and further burdened by forced, faux-poetic lyrics. As a matter of fact, there seems to be no justification for three versions of this tripe.
If there was any manner in which Gautham Menon's Tamil original Vinnaithaandi Varuvaaya had any redeeming quality, it has been lost in translation. Time and again, it has been proven that the charm of a vernacular film lies in its rootedness. Ek Deewana Tha just reinforces this fact.