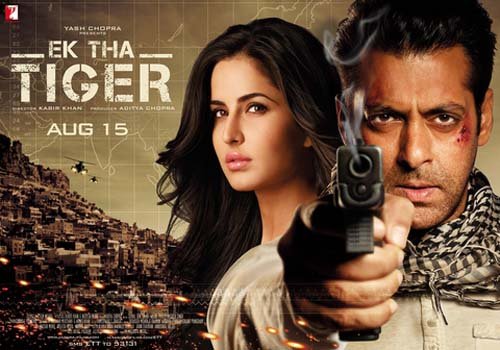 <Review by: Deepa Kumar>
Directed by Kabir Khan. Starring Salman Khan, Katrina Kaif, Girish Karnad, Ranvir Shorey, Roshan Seth.
Forget about Being Human, Being Salman has always been a different brand altogether! Fortunately or unfortunately, that is all that Ek Tha Tiger has to offer.
For someone who goes into Ek Tha Tiger after having watched Dabangg, you feel that albeit a Salman movie, in comparison, this one barely gives you any opportunity to want to whistle away.
What is most disappointing is that Ek Tha Tiger takes a complete U-turn from the way it started. The establishing shot of ruins in Northern Iran is a wow start, and as promised in the promos, the first sequence is coated Salman style action to the point that Aaron Cross (Jeremy Renner) of The Bourne Legacy might want to refer to the clipping!
As our RAW hero Tiger (Salman Khan) battles ISI agents through the by lanes of Iran, you sit back and tell yourself that coming to watch this movie was definitely a good decision. However, when Tiger goes to Ireland on one more of his many missions, and when he meets Zoya (Katrina Kaif), that's when someone takes a pin to the balloon.
Right up to this moment in the movie, characters like Shenoy (Girish Karnad), Tiger's boss at RAW and Gopi (Ranvir Shorey), Tiger's colleague at RAW, have stepped into the frame without any logical entry point.
Writers Kabir Khan, Neelesh Misra and editor Rameshwar Bhagat can play tug of war here to see who wins the blame game of taking the movie downhill. The whole idea of Tiger's mission in Ireland, to keep watch on Prof. Jamal Kidwai (Roshan Seth) who is suspected of sharing classified Indian information with ISI agents (as usual) is highly undeveloped. In fact, it leads to the most run-of-the-mill, pre-interval anti-climax.
Coming back after the interval, the movie still refuses to pick up. For some weird reason it gets immensely entangled in Tiger and Zoya's love story, which is not what you expect from Salman movies.
When a poster of a Salman Khan movie is released, it leads you to believe that he will once again destroy the enemy with brute force for us. But he's so busy fighting for his love in this one that he's actually forgotten about his enemy! It takes you to the last unfolding of Casino Royale where James Bond (Daniel Craig) sends his resignation letter to M (Judi Dench), because living and loving Vesper Lynd (Eva Green) seemed more important than fighting and dying as 007.
Ek Tha Tiger built audience expectation on the point that Salman-Katrina chemistry would do the needful. Sadly, that falls short too. Salman looks haggard and bloated in the movie. In some of the scenes, there is a visible distinction between his stunt double and him because you know that Salman is not so lean.
Unlike some of her other movies, Katrina looks unattractive in this one. If you take Rajo (Sonakshi Sinha) of Dabangg from the streets of Uttar Pradesh and throw her in the alleys of Ireland (or Cuba, or Turkey), even she might do a better job. And Katrina's dialogue delivery – Mashallah! The day Tusshar Kapoor will learn how to act, it'll be good if he offers her some lessons too. Even a belly dancing Katrina is very pale because she barely has any belly to offer!!
The one thing about the movie that remained good is the background score given by Julius Packiam. The action scenes come alive on screen because of his score and here Salman does justice to complement it.
Ek Tha Tiger best illustrates the fact that Salman needs no direction and doesn't need to act anymore; his presence on screen is more than sufficient to earn the movie profits and the love of his fans for him. If you can numb your mind and tell it that Salman is all you want to relish, then you can survive the movie (barring a few hiccoughs). If you're looking for sense in the movie, then even after the credits are over, your hunt will be on!