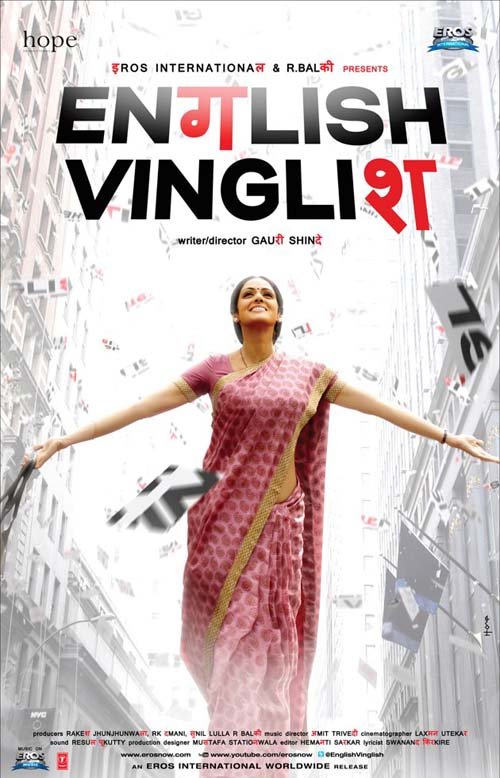 <Review by: Sailesh Ghelani>
Directed by Gauri Shinde. Starring Sridevi, Adil Hussain, Mehdi Nebbou, Priya Anand, Sujata Kumar.
English Vinglish isn't a comment on how important it is or is not to learn English when visiting America. It's a film that shows us not to take those who care for us for granted and that self-esteem is essential to hold any relationship together. 
After over a decade and a half legendary actor Sridevi returns to tantalise us with her big eyes that are like 'two drops of coffee against a white cloud of milk' (a line from the film). She plays Shashi, a small town housewife living in Pune with her husband (Adil Hussain) and their son and daughter. Shashi can't speak much English and for that she is at the receiving end of her daughter's unfeeling jibes and her husband's lack of interest in conversing with her. Her only solace apart from being a mother is to cook ladoos (Indian sweets) and sell them, which she excels at but instead of being seen as an entrepreneur her family feel she's only good for making ladoos.
A reprieve of sorts comes Shashi's way: her sister (Sujata Kumar) living in the US with her two daughters is planning one of her daughter's wedding and of course needs her help. At the visa office, the American officer asks her "Ma'm how will you get along in our country if you don't speak English?" and his colleague retorts: "How have you gotten along in our country without knowing Hindi?" Ah now some of our Indian stars ire at American customs and immigration surfacing on the big screen. And why not! There's also another whack in the face for US bravado when special cameo Amitabh Bachchan says something nasty but true to an immigration officer after he's finished entertaining Shashi onboard their flight together.
Okay so we all know she's going to end up learning English and I won't get into how that comes about, needless to say the actual learning reminded me of episodes of TVs Mind Your Language. The foreign students provide us with laughs, drama and emotion, especially the French one played by handsome Mehdi Nebbou who ends up having a crush on Shashi.
English Vinglish isn't a comment on America, it's a comment on how we treat some people (usually those closest to us) differently. It's a reminder to us that even though some members of our family may take our shit, it doesn't mean that they like it or that we're entitled to keep doing it. As Shashi, Sridevi portrays this struggling mother – who doesn't want love but simply respect – with subdued aplomb. Her big brown eyes and expressive face doing most of the talking. She is a human being and yes she's tired of being hurt by her family, not respected, treated as less than equal by her husband. And her respite in the form of 'the land of the free' is just the ticket she needs. It's not about learning English in as much as it's about regaining her lost pride.
Priya Anand plays Shashi's niece (no, not the one getting married) and she's done a good job too. Mehdi Nebbou as Shashi's dashing French admirer is quite good. The fact that he's French lends credibility to his flirtations towards this sari clad svelte mother of two. But first time director Gauri Shinde and producer R Balki (Pa, Cheeni Kum) haven't gotten carried away. There's no torrid affair here. Morals and Indian sentiment are kept in tact and Shashi's honour is upheld.
There's a bit of preaching about 'it's okay to be gay' (the English teacher is really fun) and 'don't you know I'm a married woman, leave me alone' and you wonder if they haven't made this woman a bit too idealistic and lofty but by the end you'll see why it all works well. English Vinglish isn't a great film but it's a nice story, directed well and with some good acting. The music by Amit Trivedi is nice – though I still don't understand Bollywood's penchant for long musical montages – and you'll like the song Manhattan for its foot tapping pop feel.