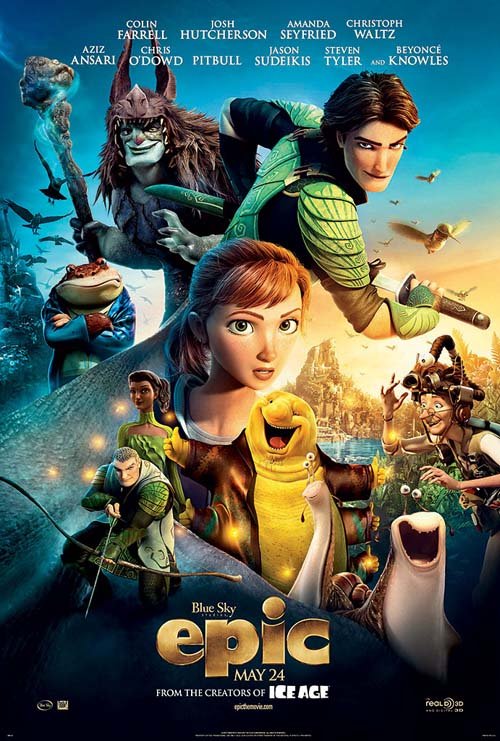 <Review by: Sailesh Ghelani>
Directed by Chris Wedge. Starring the voice talent of Josh Hutcherson, Amanda Seyfriend, Colin Farrell, Christoph Waltz, Jason Sudeikis, Steven Tyler, Pitbull, Beyoncé Knowles, Aziz Ansari, Chris O'Dowd
When I saw the trailer for this film I wasn't really impressed. At first I didn't even comprehend what it was all about. Yes it has ecological message and it sorta reminded me of a favourite film of mine called Fern Gully: The Last Rainforest from the 90s. EPIC is similar but looks far better.
I wonder sometimes how so many animated films have tackled the issues of conservation and saving the environment. Perhaps it's because so many Hollywood generated animated films feature various forms of flora and fauna as the caste and heroes of the show.
In EPIC, Professor Bomba (Jason Sudeikis) is in the middle of a forested village on a quest to find mythical little beings he things live in a parallel magical world there. His obsession of course meant his marriage fell apart and after his wife's death, their daughter Mary Katherine or MK (Amanda Seyfried) comes to stay with her reclusive and geeky father and his three-legged Pug. She wonders whether it's the right decision.
Of course she eventually stumbles upon the hidden world of the Leafmen (based on a children's book by William Joyce, who also wrote the Rise of the Guardians books) – tiny little humans living in a wonderland of sorts but battling evil forces called the Boggans lead by Mandrake (Christoph Waltz) who want to destroy the forest and lay waste to everything living.
The Leafmen are lead by Ronin (Colin Farrell) who must protect Queen Tara (Beyoncé Knowles) and eventually MK and their home from the evil Mandrake who will stop at nothing to achieve his sinister plot of desolation and misery.
Reminded me a bit of Thumbelina and Tom Thumb as well. And parts even remind you of the film Honey, I Shrunk The Kids, especially the scene where the doggie finds miniaturised MK stumbling about her father's lab.
The brilliant animators and director Chris Wedge (Ice Age, Robots) have created a truly brilliant world in EPIC. Think of Alice In Wonderland and The Wizard of Oz combined with Willy Wonka and The Chocolate Factory. Visualise vibrant colours, minutely detailed characters that are part human part flower. And how they manage to make the characters appear small but yet part of a real world, that getting the proportion of tiny is just an immense feat. The people, nay the magicians, who created this world, have more talent in their little finger than our entire Bollywood industry put together, I think.
Yes the story is formulaic with a love story but not with its 'they lived happily ever after' ending though. I like that they mixed up the voices and made them unique with Colin Farrell's Aussie accent, Beyoncé's mellow tone, Pitbull's rap dude attitude Christoph Waltz's inimitable enunciation.
Though they never explain the motive behind the villain's treacherous ways, EPIC is a simple good versus evil story told amidst a magnificent backdrop with characters and animation that leave your eyes and imagination richer for it.