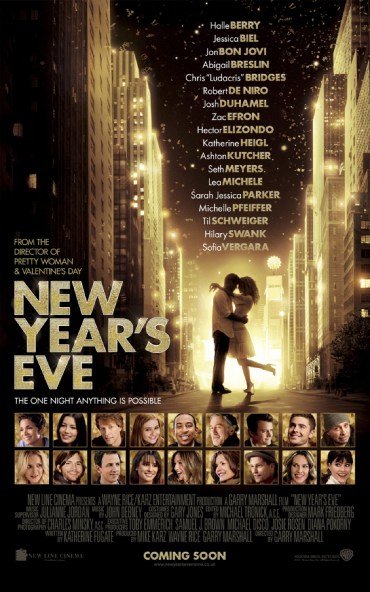 <Review by: Sailesh Ghelani>
Directed by Garry Marshall. Starring Sarah Jessica Parker, Jessica Biel, Ashton Kutcher, Halle Berry, Robert De Niro, Hilary Swank, Josh Duhamel, Jon Bon Jovi, Abigail Breslin, Hector Elizondo, Katherine Heigl, Michelle Pfeiffer, Zac Efron, Lea Michele, Sofia Vergara, Chris 'Ludacris' Bridges, Sienna Miller, Alyssa Milano, Carla Gugino, Ryan Seacrest, Russell Peters, Jim Belushi, Seth Meyers, Matthew Broderick and more

Yes, that is the amazing list of actors/performers starring in this trying-to-be-schmaltzy (definitely not Love Actually) movie for the holiday season. And it makes you want to forget this year or at least this movie for representing everything we don't want to see from Hollywood.
Okay, so here's the year's token feel-good film, the mush, the sentimentality, the serendipity, the couples and the courtship, the last wishes, the fairy tale endings and new beginnings, the heartbreak and the reconciliations. In typical formula, Hollywood biggie Garry Marshall (director of Pretty Woman and surprisingly a string of various flop films) has banded together as many stars, current and legendary, as he could, paired them up or made trios out of them and given them each a story. Some intersect, some don't. There are way too many to get into here, and frankly none of them are particularly inspiring, unique or touching.

New Year's Eve is about to descend upon New York and the ball must drop (NY's tradition of a giant, lit-up ball dropping slowly as midnight arrives as Times Square is packed with people counting it down). But there is a problem, which is also metaphorical for the problems faced by our myriad characters.
If you look at the posters for this film you may find the actors a tad airbrushed. And if you see the film, you'll realise why. All the actors with the exception of one, look as if they have withered away with time and lots of fast food. The fantastic Michelle Pfeiffer looks so haggard and bony that you grimace in horror at what has become of one of Hollywood's great leading ladies. I tell you, you will shudder when you see her (she's only 53, mind you).
Even Grey's Anatomy star Katherine Heigl looks bloated and pimply. Zac Efron looks chubby, Sofia Vergara (the funniest thing in this movie aside from Russell Peters' Indian 'accent' and his calling Heigl's character 'Lauda' instead of Laura. It's a Hindi slang vulgar word!) is disgustingly fleshy, Josh Duhamel looks old, Hilary Swank really can't look any better than she does and even Peter Pan Bon Jovi's cute butt doesn't make up for his sagging face. The one and only person who looks a million bucks is… Halle Berry. She has got it going on. And her storyline with Robert De Niro is also the only interesting one in the film. Sadly also squandered.
Too many stories, too many actors, too many bad jokes and attempts at situational comedy make New Year's Eve a veritable mess (the storyline with the 'warring' pregnant couples is atrocious) with one or two twists at the end but who cares really. The only acting comes from Sarah Jessica Parker (who still does look good), De Niro and Berry, and maybe even Swank does her best. The songs are okay, certainly not tear-jerkers and nothing you'll be playing come Christmas time. Unless it's a 'nightmare before christmas party' you have in mind!
Previous comments on this post: