<Review by: Sailesh Ghelani>
I haven't watched the first season of House of Cards but you don't need to. You can enjoy its wicked wonders nevertheless.
The American show on White House politics was inspired by an old British mini-series by the same name that starred Ian Richardson as a calculating, duplicitous politician and his wife and their plot to climb the diplomatic ladder.
The American House of Cards TV show was developed as thirteen episodes and was contracted to air online on Netflix. It did so well that not only was it renewed it also got a whopping nine Primetime Emmy Award nominations as well as four Golden Glob Award nominations. This was pretty unique for an online-only TV series. The second season got 13 nominations at the Primetime Emmy Awards.
Francis 'Frank' Underwood (the initials 'FU' say a lot about the attitude of the character!) played by consummate actor Kevin Spacey starts off as House Majority Whip and by the end of the first season he's Vice-President and no, he probably didn't get there on merit. Season two traces his deceptions and tribulations along with his devoted and equally ambitious wife Claire (Robin Wright) as they battle journalists who have dirt on them as well as businessman Raymond Tusk (Gerald McRaney) whose influence over President Garrett Walker (Michel Gill) must be severed by VP Underwood who even has blood on his hands!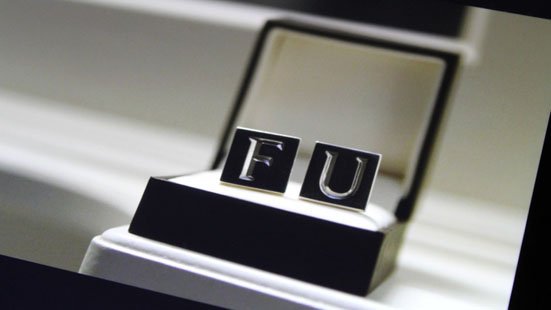 House of Cards is serious and certainly very riveting. There are few moments of humour but when they do come they are sharp and dry and usually from one of Frank Underwood's asides, direct to camera called Direct Address (more on that in the Special Features).
The series benefits from a talented and experienced crew headed by Executive Producer/Director (first two episodes of House of Cards) David Fincher, who is the director of hit films like Fight Club, Seven, The Curious Case of Benjamin Button, The Girl with the Dragon Tattoo and The Social Network.
Executive Producer/Director David Fincher on his show House of Cards
DVD quality is excellent and brings out the sophistication of each scene, framed classically and usually with precision symmetry.
What I love about the show is the raw intensity and carnal wretchedness of the characters that show us how true human nature comes into play in a political setting. The duplicitousness of Frank Underwood and his fuck you attitude are a joy to watch as he talks to the viewers on and off making them a part of his Machiavellian schemes. Robin Wright as Claire Underwood is Ice Queen personified but with so much nuanced personality that it's no wonder she won a Golden Globe for Best Actress – Television Drama Series. The twists and sexuality depicted in House of Cards are very fun and exciting too.
SPECIAL FEATURES
The Special Features on this box set are spread across the four enclosed DVDs.
Disc 1
Politics for the Sake of Politics
In this feature various members of the cast and crew talk about how House of Cards isn't a show about politics. "It's not about the specifics of politics. It's about the people. The series has all the hallmarks for great drama," says actor Kevin Spacey.
They talk about the black humour and all the interviews with cast and crew are conducted against a classy white background.
Direct Address
In the series, when Frank Underwood has an aside – even while he's with other characters in a scene – he'll talk directly to camera and the viewers. This is called 'direct address' and gives you complete access to his thoughts. It's like he's saying, "This is how I'm gonna fuck this person up. And you're gonna love watching me do it!"
This being part of his plans appeals to you as a viewer as you're drawn in further and are invested in his evil plotting, which is kind of a voyeuristic guilty pleasure.
Disc 2
Two Houses
This feature talks about how the American series was inspired by the four-part British mini-series from the 1990s that starred Ian Richardson.
For the makers of the American House of Cards, Kevin Spacey was the only actor that came to mind and they had no backup choice. Thankfully, he agreed; same for Robin Wright who initially had apprehensions about switching from film to TV. What changed her mind? Watch to find out.
Disc 3
Table Read
This feature gives us a front row seat at the table read for the last two episodes of the season. Here, the cast and crew basically sit around and read the script. You then see how the actual scene comes out with the same dialogue that was previously read at the table.
Disc 4
Line of Succession
We come to know that each director on the series shoots two episodes at a time. And that driving shots are filmed against green screen. It's very interesting to see this process and realise how seamless it is when you watch the episode.
There are lots of other techniques about how the series directors shoot movement, blocking and use dollies and fixed cameras. Film students will find this invaluable.
Watch the trailer for House of Cards Season 2 here:
DVD Courtesy Sony DADC
Rs 1499/-