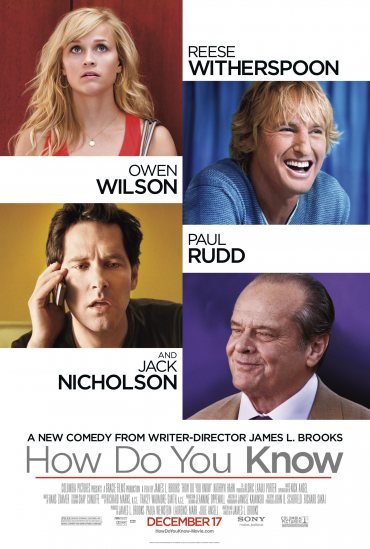 Directed by James L. Brooks. Starring Reese Witherspoon, Paul Rudd, Owen Wilson, Jack Nicholson.

The makers of this film forgot the question mark at the end of that forgettable title. They also forgot about the plot, screenplay and comedy that one expected to see from a film with this many good actors.
How do you know? If the one is really the one. If you're with the right person. If you should marry them. If you will be together forever. How do you know? Well this film really doesn't give you an answer to those questions.
Acclaimed director James L. Brooks (As Good As It Gets, Jerry Maguire, Say Anything) brings together big names in comic romance. Paul Rudd is George, a businessman working with his father Charles (Nicholson) at a company that's just been served an indictment notice from the government. And George is smack-dab in the middle of things. To ease his sorrows he goes out on a blind date with Lisa played by Reese Witherspoon, who's dealing with some troubles of her own, namely Casanova baseball jock Matty (Wilson) who just can't seem to wrap his head around the term monogamy.
The first half of the film is a tad painful to sit through. Because there's not much by way of comedy. Except for the masterful Owen Wilson who plays the rich, womanising sports jock with a Zen for order to the T. Paul Rudd and Jack Nicholson's scenes are a bit excruciating at times. You can see that not much has been summoned up by way of dialogue. And yet there's nothing but dialogue in the film at points. Unfortunately it's not very good. Reese Witherspoon's character is so undecided and banal that you wonder what these two men could possibly see in her.
I have to say though, the cinema hall was pretty packed and people did seem to enjoy some bits, like a witty line here or there. I mean you can't help but, considering all the characters are doing stuff they've made their bread and butter on. But the film just didn't do it for me. I sat there bored as hell with only Paul Rudd's puppy dog eyes and Owen Wilson's confident buffoonery keeping me awake.
There's very little by way of romance; How Do You Know seems more like a film about a girl who has to choose between a rich guy with problems and a nice guy with problems. At the end, you're not really convinced she ends up with the one. It just seems he's by default the winner. This is sad because with this cast you know they haven't pushed the envelope.
But you know, I think compared to some of our home grown Bollywood rom-coms, Hollywood misfires like this one are still an enjoyable watch. So if you like the actors, then take a chance. You never know!