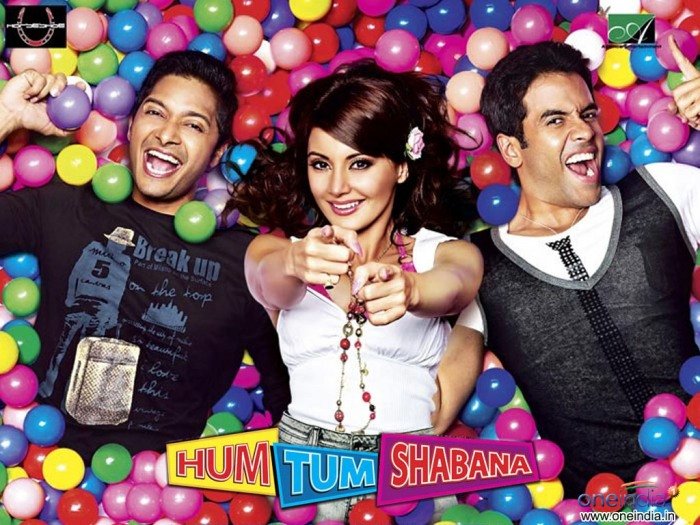 <Review by:
Tushar A Amin
>
Directed by Sagar Ballary. Starring Tusshar Kapoor, Shreyas Talpade, Minissha Lamba, Satish Kaushik, Sanjay Mishra, Pria Trivedi.
Same-same-but-different. Mindless trash comedy minus the star-power.
Hum Tum Shabana is an example of a filmmaker's idea of what the masses' idea of a comedy is. It is as good or if you will, as bad as, say a Thank You, a Welcome or a No Problem is. Loud, shrill and devoid of all subtleties and subtexts. The only difference is, Hum Tum Shabana lacks the omnipotent star-power that propels similar films over the minor obstacle called mediocrity.
Even in its mediocrity, Hum Tum Shabana shows little originality. Tusshar Kapoor and Shreyas Talpade reprise their jaded character antics from the Golmaal series, or was it the Dhamaal series or Housefull? Whatever. So, Tusshar Kapoor has the mandatory scene where he loses his power of speech and resorts to time-tested blabbering. Poor Shreyas Talpade has no signature 'character tick' even in the so-called-hit-comedies so he has to resort to ripping-off Vrajesh Hirji's nagin-dance moves. Routine comedy fixtures, Sanjay Mishra and Satish Kaushik go over-the-top with their slapstick act, yet again.
Minissha Lamba banks on her cuteness quotient, yet again. And we know that each of these three can deliver powerful performance laced with layers when called upon. But then, the script does not demand a Yahaan from Minissha, a Dor from Shreyas Talpade or a Shor from Tusshar. With utter tripe as screenplay, the signature moves become blatant rip-offs and cuteness doesn't cut, it hurts.
Tusshar Kapoor and Shreyas Talpade play event management firm executives who spend the first half of the film vying for the attention of Minissha Lamba, a contestant at the beauty pageant organised by them. The second half is dedicated to the two trying to palm the poor girl off to one another as they discover she's the niece of an underworld don. A tiresome climax finally brings the film where it belongs: in a tacky House of Horrors.
The only bright spot in this tragic comedy are the peppy songs that wake you out of the lull every half an hour or so. Sagar Ballary seems to have missed yet another opportunity to consolidate his reputation as a filmmaker with promise.

<Tushar A Amin is the author of Bollywood Themes and former editor of FHM India. Follow Tushar on twitter: @tusharaamin>