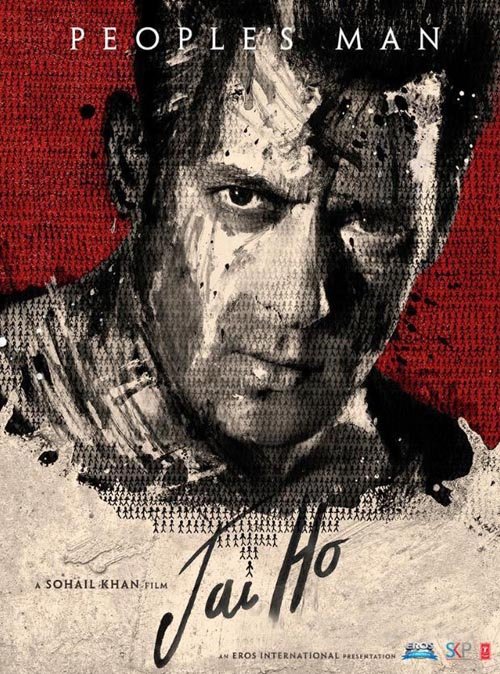 <Review by: Sailesh Ghelani>
Directed by Sohail Khan. Starring Salman Khan, Tabu, Sana Khan, Daisy Shah, Danny Denzongpa, Bruna Abdullah, Mahesh Manjrekar, Aditya Panscholi, Nadira Babbar, Nauheed Cyrusi, Mukul Dev, Sharad S Kapoor, Vatsal Seth, Mohnish Bahl, Ashmit Patel
I'm not a Salman Khan fan and I know Jai Ho is not a well-made film by a long shot but something about it does move you. Watching it with a crowd of people whistling and cheering probably helps!
I don't think much of Salman Khan's acting (or lack of it) or the choice of his films. Not expecting much I accompanied a friend to Regal, one of Mumbai's last remaining single-screen theatres for the masses, and sat amongst a full house notwithstanding all the bad reviews for the film. The audience seemed to enjoy it.
Now many would say this isn't a film really, more just a showcase for Salman Khan antics and his bare chest. Probably true but this is a film that tries, however feebly, to drive home a message: going out of your way to help someone can change the world and politicians beware of the aam admi (common man). Inspired by the Hollywood film Pay It Forward (Kevin Spacey, Haley Joel Osmont), we have ex-military man Jai (Salman Khan) espousing the belief that better than saying 'thank you' one should help out at least three people in need. And then tell those three people to help out another three people each and so on.
It is this inspirational (albeit copied) message that does form some of the most touching moments in the film. Of course it leads to an end that you can vaguely guess but I'd like to think it's a message that urgently needs to be told. The warning to politicians and the corrupt couldn't be better timed considering the upheavals on the political front in India at present and the likelihood of a new party emerging to protect the poor and oust the corrupt governing parties.
Sure there is a fair share of slapstick and over the top action sequences but then that's part and parcel of a Salman flick. I've seen a lot worse.
Though Tabu looks a bit out of place in a film like this, she lends a dignity to the movie and that's what gives it balance. She doesn't have to do or say much; just her presence and silent interactions with her screen brother Jai give a pinch of gravitas.
Young Naman Jain (from director Zoya Akhtar's short Sheila Ki Jawaani in Bombay Talkies) is splendid giving a witty and natural performance. He's definitely one to watch out for.
What Jai Ho does is give you the whole good v/s bad and pushes the envelop with some brutal action and heart-wrenching characters (Genelia D'souza's handicapped student). You are rooting for Salman every time. You want him to pound the bad guys into oblivion.
So while Jai Ho is a poorly directed film that critics will hate (for good reason) I think it's actually not a bad stab at promoting a message of doing the right thing, standing up for your rights and fighting. Especially since this is an actor with tremendous popularity and fan loyalty at a mass level. The fact that he has tried to change a mindset is a lot more than most of our seasoned actors – with the exception of Aamir Khan until the recent Dhoom 3, of course – are doing.
PS: And for those of you who say his message won't make any difference, well, he's done his part, it's up to you to do yours.