<Review by: Shourya>
Icon. Legend. Diva.
It's official. The one and only Miss Janet Jackson ages backward y'all. Let's just keep aside the fact that she has sold an estimated 150 million records worldwide, making her one of the highest selling artists in contemporary music. Also the fact that she's a ground-breaking trail-blazing pioneer who has had a mind-boggling career spanning over 3 decades, resulting in 10 Billboard Hot 100 #1 singles, 6 Billboard 200 #1 albums, 19 #1′s on the Billboard Dance Charts, 16 #1 on the Billboard R'n'B Charts and 5 Grammy Awards. Oh and that she also has 3 #1 movies and a #1 best selling book on the New York Times. No big deal.

Let's just concentrate on how Janet looks like today, at the incredibly young age of 46. Here's Janet Jackson rocking the red carpet at the amfAR Cinema Against AIDS event at Cannes.Honestly, could your faves could quite literally never.'Nuff said.Dressed in a Pucci by Peter Dundas gown, shoes by Giuseppe Zanotti and jewelry by Pomellato, Miss Jackson just goes on to prove that age is nothing but a mere number. Forever plagued by her weight issues, it's good to see the iconic 'Nasty' hit-maker looking so incredibly amazing. And in a recent interview, Janet announced that she's finally started work on her new album, her first since 2008′s Billboard #1 'Discipline'. Hallelujah!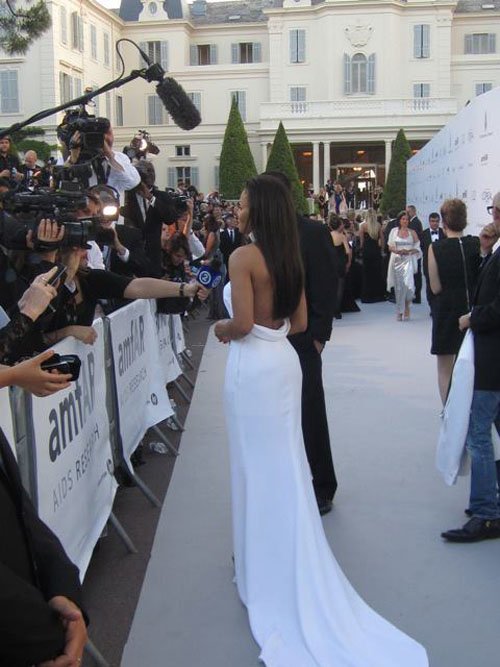 Can't wait for Miss Jackson to get back to slaying with her music! She's a true legend, and she changed the face of contemporary pop music forever with her genre-bending songs, videos and choreography. Bring out that album already now, will you Janet??
Don't forget to follow me on Twitter ShouryaC.