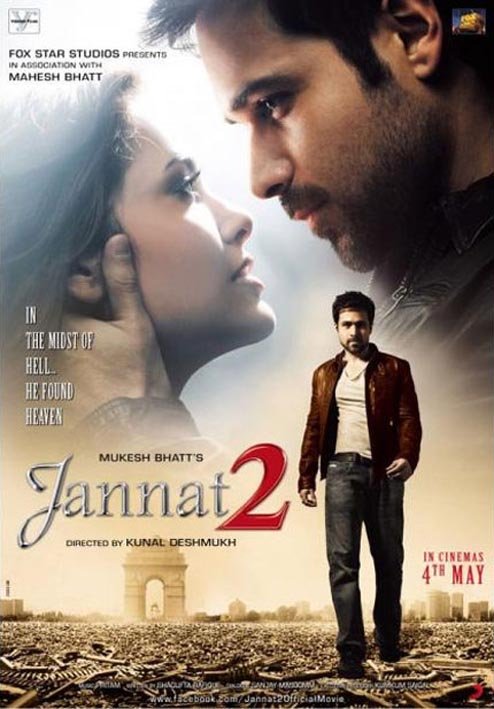 <Review by: Anuvrat Bhansali>
Directed by Kunal Deshmukh. Starring Emraan Hashmi, Randeep Hooda, Esha Gupta, Mohammed Zeeshan Ayyub, Manish Choudhary.
A much-diluted story of the illegal arms mafia, Jannat 2 is everything but a sequel. It begins with a focused view on the world of illegal arms manufacturing but is eventually marred by Bollywood clichés.
Sonu Dilli KKC (Emraan Hashmi) is a flamboyant local goon and illegal arms supplier who believes that a gun in each hand will make everyone equal. Though he is just a small, irrelevant pawn in the game of illegal arms, ACP Pratap Raghuvanshi (Randeep Hooda) believes that Sonu is a key to unearth the booming trade that is creating lawlessness in the city. While 'informer' Sonu wants to help the cops and in return have a more respectable life for his lady-love (Esha Gupta), he is unaware of the high tides of chaos that await him.
J2 plays many a safe shot and in entirety its biggest failure is the absence of a real villain who'll cast fear – for instance Prashant Narayanan in Murder 2. There are no astounding action sequences either yet it's called a crime thriller. The language is completely uncensored but the dialogue fails to make an impact. The story never picks up in the first half and goes downhill in the second. As expected, it has enough skin show for the average cinema-goer and the music is trademark Emraan Hashmi – catchy, soothing and giving shots of breath to the story.
Inspired by the iconoclast pair of Vijay and Sher Khan from Zanjeer, the camaraderie between Hashmi and Hooda is the only evocative part.
Since his debut days, Emraan Hashmi has developed this style of acting that always hits the bulls-eye even if it hardly brings a 'wow' moment. He is pretty convincing as a Delhi-ite but not as a gun supplier who wears Puma shoes, Ed-Hardy'ish tees and is as afraid of the police as anybody else. Randeep Hooda, rather, is the man to watch. This is one of the finest supporting acts of the year and Hooda's career. Esha Gupta with her boob pumping poses and emotionless expressions is just fine. Of the supporting actors, the short role of Mohammed Zeeshan, who plays Hashmi's friend, deserves applause for providing the only gripping moment in the movie.
J2 misses a big opportunity with a story that could've gone much deeper in the crass worlds of illegal arms mafia and not succumbed to the classic Bollywood checklist that makes it another shallow attempt.