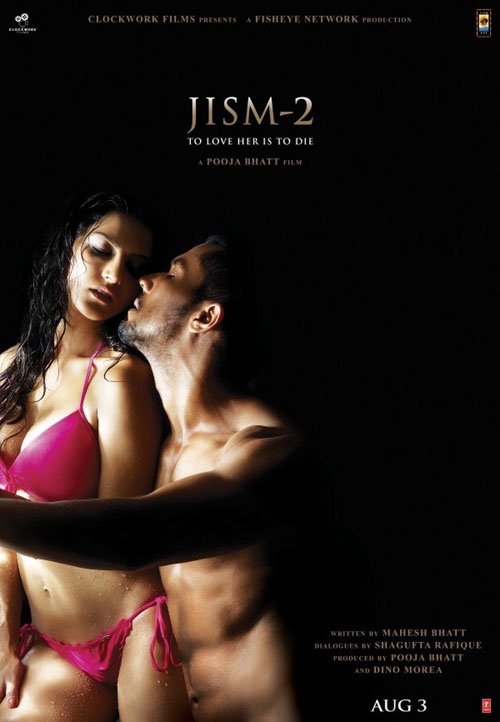 <Review by: Vikas Sangle>
Directed by Pooja Bhatt. Starring Sunny Leone, Randeep Hooda, Arunoday Singh.
Don't judge a book by its cover and don't judge a film by its posters or promos. Same goes for Jism 2. In the second installment of her Jism series, Pooja Bhatt directs a spy thriller that is slow, dull, boring and above all lacks a strong script.
Porn star Sunny Leone makes her much anticipated debut in this film but her big jump onto the Bollywood band wagon is only limited to her body revealing outfits and the sexy love making scenes. Her acting skills are not worth talking about really. She is supported by two gorgeous men: Arunoday Singh and Randeep Hooda in important roles that go awry as the film moves forward.
The entire plot revolves around porn star Izna (Sunny Leone) who is hired by a secret agency headed by Ayaan (Arunoday Singh) to seduce and nab a killer Sameer (Randeep Hooda) who is also Izna's ex-lover. Somewhere down the line Ayaan also falls in love with Izna and what we have in the end is not a love triangle but a mess, which looks like the director does not know how to deal with as the film closes. All this and more with songs that do not form a part of the plot makes the film a big yawn.
A film like Jism could have been good if the script would have been a lot better. We have seen Mahesh Bhatt come up with some really amazing scripts in the past (Zakhm, Raaz, Arth, Gangster) and it is hard to believe that Jism was his work. Further, certain important aspects of the film such Sameer's change from an honest police officer to a killer is not explained at all. Even situations such as Ayaan falling in love with Izna and Izna falling in love with Sameer don't make any sense. Worst are some crucial climax scenes in the film that look rather funny.
As far as the acting department is concerned, Sunny Leone needs to do a lot more than what she does best: dropping her clothes. Arunoday Singh is sharply dressed and looks like a designer brand model but he could have done better considering his past roles. However, Randeep Hooda is good and adds a lot of depth to his character but it looks like he feels kind of let down by a weak script.
Overall Jism 2 is a huge let down. The plot seems to be something like a been there done that thing and has nothing new to offer.  The only thing new out here is Sunny Leone and her steamy scenes. But then if you are only interested in that, forget Jism 2; just check out some her videos online.