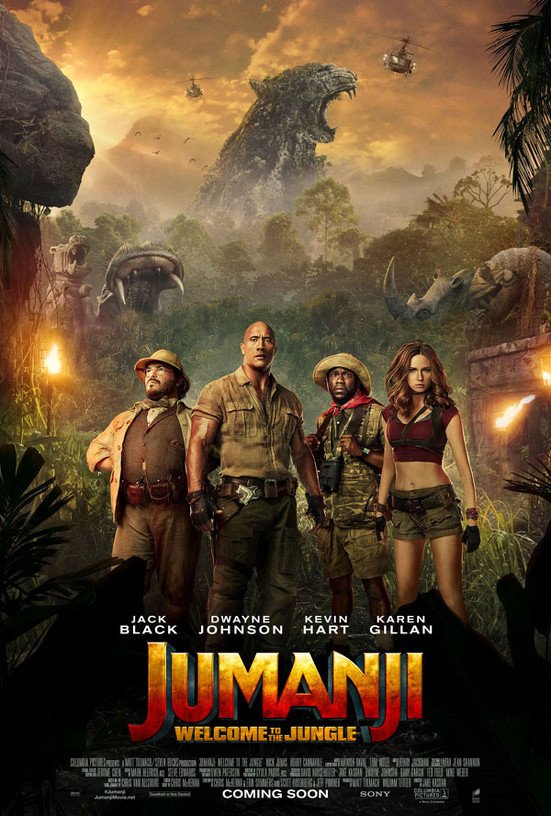 <Review by: Sailesh Ghelani>
Directed by Jake Kasdan. Starring Dwayne Johnson aka The Rock, Jack Black, Kevin Hart, Karen Gillan, Nick Jonas, Bobby Cannavale, Ser'Darius Blain, Madison Iseman, Morgan Turner, Alex Wolff, Missi Pyle
Running time: 1 hour 52 minutes
Based on a magical movie that starred Robin Williams, this one sets aside fantasy and thrills for witty banter and a terribly simplistic plot.
Beginning with a teenager playing video games, the Jumanji game board mysteriously finds its way to his room and transforms into a video game cartridge since kids nowadays don't play board games. Into the slot it goes and so does the kid. Twenty years later, four young school kids – Spencer (Alex Wolff), 'Fridge' (Ser'Darius Blain), Bethany (Madison Iseman) and Martha (Morgan Turner) – all get detention in a dingy basement where, for some strange reason, the video game lays dusty and waiting to be played. It also, very conveniently, has four game controllers. You know what happens next.
To make things convoluted, our foursome morph into new characters in the Jungle world of Jumanji: Spencer becomes Dr Bravestone (Dwayne Johnson), Fridge becomes Moose Finbar (Kevin Hart), Bethany is Professor Sheldon Oberon (Jack Black) and Martha becomes Ruby Roundhouse (Karen Gillan). They must 'save Jumanji' by getting the stolen green stone back into the Jaguar's eye. The exceedingly weak villain Van Pelt (Booby Cannavale) poses a minor threat compared to the bungling group.
Admittedly there is some chemistry between the actors that makes you chuckle now and then. But once they are in the jungle, there is very little sense that they are in a video game apart from the fact that they each have three lives.
Kevin Hart is amusing, Jack Black plays the popular girl who finds her heart really well and Karen Gillan is a suitable Lara Croft knock-off. Dwayne 'The Rock' Johnson pretty much is the same as he is in most of his films. I wonder if he'll ever do something truly different or if those bulging muscles will forever keep him typecast.
Jumanji: Welcome to the Jungle is mindless, repetitive and silly with a plot so trite you'll wish for the days when films created fantasies that transported you to other worlds.