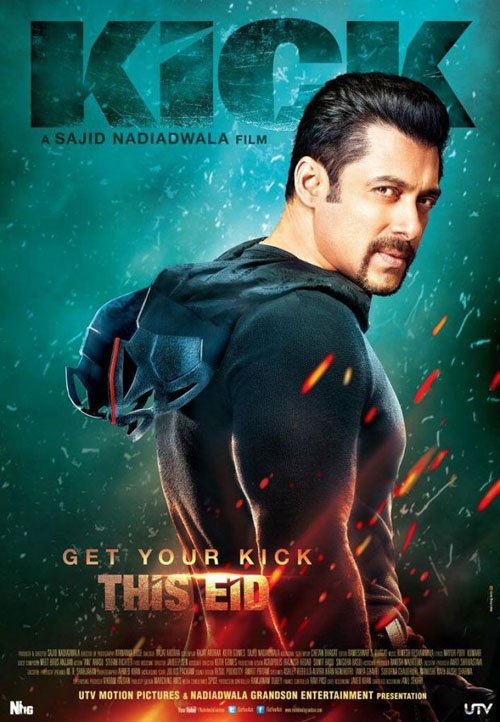 <Review by: Meera Joshi>
Directed by Sajid Nadiadwala. Starring Salman Khan, Jacqueline Fernandez, Randeep Hooda
 Before watching Kick just keep in mind the line from the promos: "Main dil mein aata hoon, samajh mein nahin." Kick is a time-pass movie. A must-see for Salman Khan fans as it has all the requisite ingredients of the actor's movies – action, computer graphics and cheesy dialogue.
Believe it or faint, though Salman's presence is sensed throughout the film, he isn't in every frame. In fact, the movie starts off with Shaina (Jacqueline) being forced into a boy-meets-girl situation with Himanshu Tyagi (Randeep Hooda). Shaina, a psychiatrist, is still recovering from her break up with Devilal Singh (Salman Khan) and she's reluctant to strike up a new relationship. Himanshu, a top cop, is in Warsaw to nab the 'Devil'.
The story progresses at a brisk pace that slackens only towards the middle of the second half when there's an explanation for Devilal Singh (Salman) turning into Robin Hood.
The problem starts when Devilal, though well educated, can't fit into a work culture. Girlfriend Shaina's father asks whether he's opting to be a ghar jamai since he doesn't have a job. That rankles and Devilal walks out of Shaina's life and into Himanshu's. Whatever Devi does is for an adrenaline rush, a kick. And he gets it in helping others. There are several comic moments in the film as well as a tearjerker scene; both always go down well with the audience.
Salman delivers what is expected of him. As for Jacqueline, no wonder she said yes the minute she was offered the film. This must be one of the most substantial roles of her career and she has dubbed for herself for the first time. The actress has done a pretty good job at histrionics as well as dubbing. Randeep Hooda gives a fine performance. Nawazuddin Siddiqui, however, is wasted in a two-minute role.  Mithun Chakraborty makes a rare appearance on screen as Salman's father.
After producing 17 films, Sajid Nadiadwala makes his debut as director with Kick. His film holds your interest and is entertaining. But then he had something to work on; Kick is a remake of the 2009 Telegu film of the same name. His next film, if original, would show his potential. Music by Himesh Reshammiya should set feet tapping, especially the numbers Hangover and the title track Kick. For once, Salman Khan's dance moves seem choreographed. Ahmed Khan, take a bow.
PS: Why on earth did they need Nargis Fakri for the Kick song? Her moves are so robotic. Where was Jacqueline Fernandez at the end of the film?
<Meera Joshi is a carefree freelancer who recently rounded off her 35-year career in journalism as Managing Editor of Filmfare Magazine. She has interviewed all the big stars including Amitabh Bachchan and we're privileged to have her writing for Minority-Review>