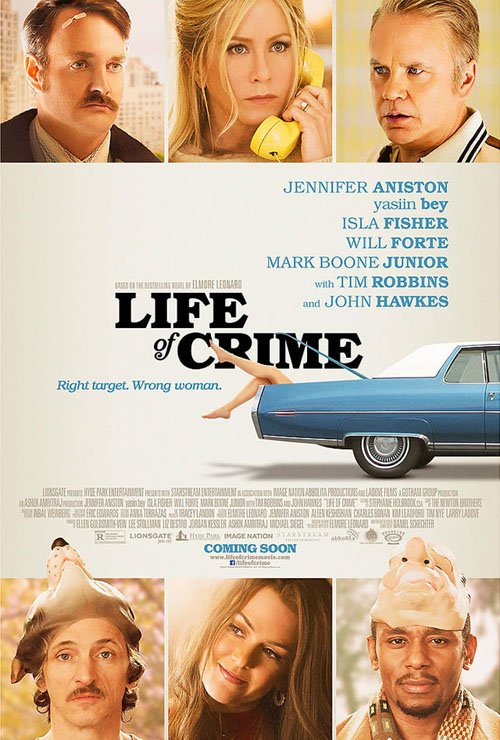 <Review by: Sailesh Ghelani>
Directed by Daniel Schechter. Starring Jennifer Aniston, John Hawkes, Yasiin Bey (Mos Def), Isla Fisher, Tim Robbins, Will Forte, Mark Boone Jr, Clea Lewis
With a quaint period charm and some decidedly nefarious but bumbling characters, Life Of Crime has sparks of wickedness but the plot isn't as strong as it could have been.
Based on author Elmore Leonard's The Switch, Life Of Crime is set in 70s Detroit where we're introduced to the not-so-happily married couple of Frank Dawson (Tim Robbins) and Mickey (Jennifer Aniston). This seems to be apparent to most people including their married friend Marshall Taylor (Will Forte) whose advances on Mickey are creepy to say the least.
Louis Gara (John Hawkes) and his buddy Ordell Robbie (Yasiin Bey/Mos Def) are plotting something with their Nazi-obsessed accomplice Richard (Mark Boone Jr). They're going to kidnap Mickey and ask Frank for a ransom. Little do they know that Frank is going to divorce her and shack up with his new young honey Melanie (Isla Fisher) who has no plans of sharing her pie with the ex-Mrs.
Gara is sympathetic towards Mickey, bandaging a cut foot and protecting her from the perverted eye of Richard. And Mickey is no quivering daisy either as she proves to be a strong-willed woman. At points you wonder if she hasn't had herself kidnapped!
Unfortunately the plot doesn't really have any major plot twist. There are some wonderfully dark and twisted moments and some dark humour interwoven in subtle fashion. The characters are wily and scheming and disgusting at points but you can't help but smirk wryly when Melaney tries to convince Frank not to give in to the ransom demands. At the back of her mind she and the audience know that's less money for her when they're together.
The ending is a bit anti-climactic and you're left wanting a bit more of an explanation but it is in keeping with the film's light-heartedness. Life Of Crime has some fun characters and good performances.