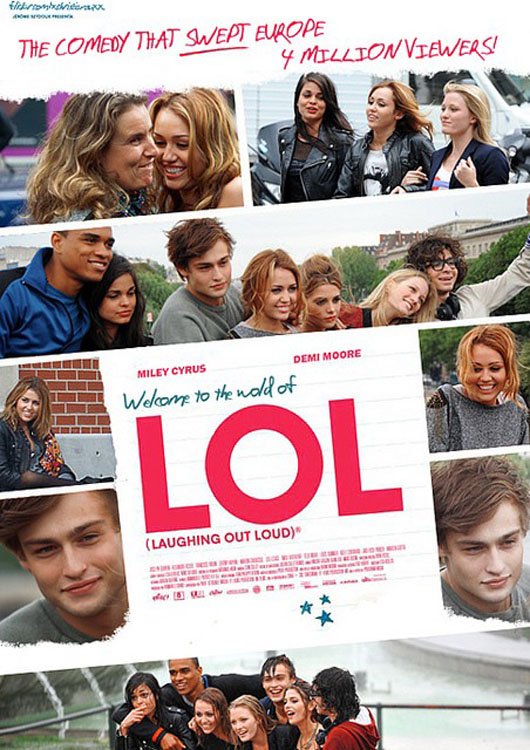 <Review by: Sailesh Ghelani>
Directed by Lisa Azuelos. Starring Demi Moore, Miley Cyrus, Douglas Booth, Ashley Greene. 
With a pulse on its target audience and an interesting contrast between adult and teen relationships, LOL is surprisingly not as bad as you'd think it would be.
Apart from being a cyber acronym for Laugh Out Loud, LOL is also short for Lola, our teen protagonist played by Miley Cyrus. In college, she's struggling with all the things young people do: finding an identity, fitting in, relationships, sex, drugs, parents, divorced parents and freedom or the lack of it.
Demi Moore is Anne, Lol's (pronounced Lowel) mother who is separated from her dad though she's still 'getting over him' or rather 'under him'. But that's complicated. Just like Lola's relationship with best friend Kyle (Douglas Booth). Jealousies, betrayals and misunderstandings abound between the friends who all have a love/hate relationship at one point or another in the film.
It's interesting that LOL while not being unique, still manages to capture teenage angst, rebellion and new forms of communication: phones and laptops being more important to them but sometimes causing more frustration than they're worth.
Miley could be any young teenage daughter, battling for her privacy but sharing a strong bond with her mother, who ends up reading her diary and finding a used condom wrapper in it! But then mommy is getting quite friendly with a cute biker cop, so things sort of even themselves out.
Director Lisa Azuelos (who's also the writer) takes a female point of view and intercuts scenes with the parents and the kids to sort of say, 'Hey, we're not that different after all.' It's also a very touchy-feely film in that mother-daughter cuddle up together and Lol and best friend Emily touch and kiss each other and everyone else are quite physical even on a friendly level. Perhaps that's today's culture, today's youth that are a lot more open about themselves and free to just be without boundaries. Is it good? Well I'm not judging.
Let me say that I felt a lot more watching this film than I did watching the beautifully shot but emotionally vapid War Horse (Oscar nominations notwithstanding). Perhaps its strange sexual energy and slightly weird intimacy comes from the fact that this film is based on a French film by the same name made by the same director; that one starred Sophie Marceau as the mom Anne and Christa Theret as Lola. Would be interesting to watch that…