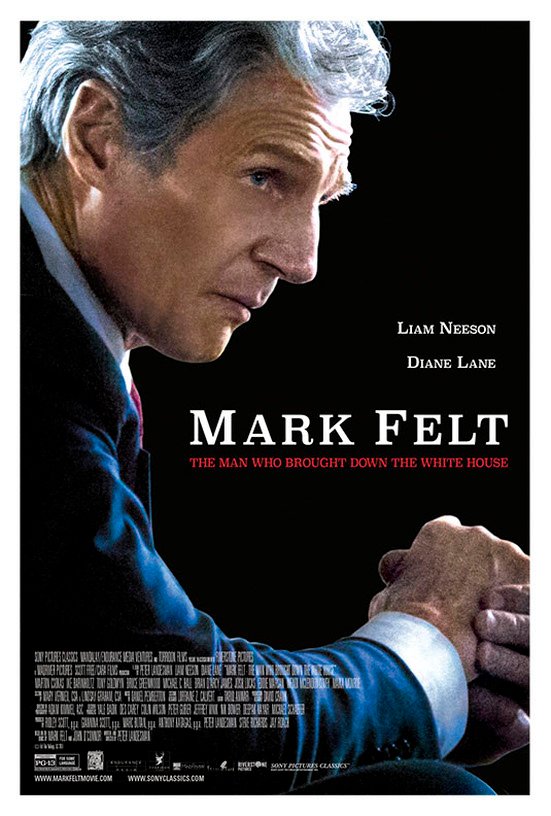 <Review by: Sailesh Ghelani>
Directed by Peter Landesman. Starring Liam Neeson, Diane Lane, Martin Csokas, Michael C. Hall, Josh Lucas, Tom Sizemore, Tony Goldwyn, Bruce Greenwood, Ike Barinholtz, Maika Monroe, Kate Walsh, Eddie Marsan
Running time: 1 hour 43 minutes
In the current mood of the US and the world, Mark Felt seems like it has released at the right time. If only it could make a difference…
Everyone knows about the Watergate scandal that rocked America in 1974 and eventually brought down the President, Richard Nixon and his cronies.  Some of you may know of the mysterious 'Deep Throat' – a moniker that was sniggered at by some in the audience when said out load in the film – who was the man in the FBI who leaked information to the press so that the truth would come out.
Mark Felt (Liam Neeson) was Deep Throat. Second in command at the FBI, but stopped from taking the place of the infamous J. Edgar Hoover who kept all of the country's secrets locked up in his personal vault. The White House couldn't let Felt investigate further. Neither could they fire him, as then he'd be free to divulge all he knew. The film is about the power struggle, the intrigue and drama that were involved during this time. It's interesting not because of all the secrets that are divulged or the wrongdoings of the President and his White House, but because you get a glimpse in to the events that lead to all that. And the people who risked everything to make sure that the truth came out.
Liam Neeson looks terribly old in the film, and maybe that's intentional. He's a company man for 30 years in the FBI and believes that no one has the power to stop the FBI from its job, not even the FBI! Everything else comes second. Determination and personal struggle are what form the foundation of Mark Felt. There's a side story in here about his missing daughter that adds a touch of humanity to it all, but the story could have done without it. Diane Lane as Mark's wife is a tad cold and cardboard, lending nothing much to her character or the film.
Purposefully written and released during this period of uncertainty, with the US President wrecking havoc in his country and the world, Mark Felt is quietly beseeching the whistle-blowers and silence breakers of the world to come out, stand up and make a difference.