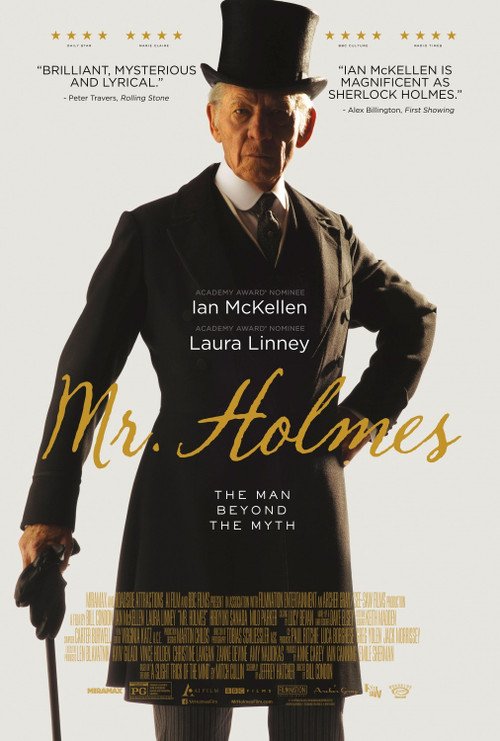 <Review by: Sailesh Ghelani>
Directed by Bill Condon. Starring Ian McKellen, Laura Linney, Milo Parker, Hiroyuki Sanada, Hattie Morahan, Patrick Kennedy, Frances De La Tour
Mr Holmes is one of those rare films that don't pander to a commercial audience's expectations.
I actually had no expectations from the film and wasn't even sure what it was about. We all know Sherlock Holmes, the master detective who has been reincarnated several times recently for the big screen and TV considering Hollywood's lack of good writers and imagination.
Mr Holmes actually takes place in 1947 at the end of Holmes' career, in fact in his retirement days at the age of 93 when he realises that he is alone and old and the one thing he always prided himself on – his keen intellect and sharp mind – was putrefying and there was little he could do about it. He tries though, first consuming Royal Jelly from the apiary at his cottage near the White Cliffs of Dover and then going to Japan after Hiroshima and procuring some Prickly Ash, believed to restore a man's faculties and memory.
At his cottage, his housekeeper Mrs Munro (Laura Linney) is keen to leave her boring job and take her son Roger (Milo Parker) somewhere else to work. But Roger is more interested in being a young Watson to Mr Holmes who has resurrected his last unsolved case to prove that he hasn't yet lost it.
The film flashes back to Holmes' younger days on the case and then transports you to Japan and his haunting mission there. You see Sherlock Holmes in a vulnerable, stumbling and sometime pitiful light. And that's the beauty of it all. Because you're seeing a totally different side of a character that has been done to death, apparently. There's also a cheeky dig at all those Sherlock clichés that we're used to like the deerstalker cap and pipe, which are evidently concoctions of Dr Watson's imagination in his writings about their cases together.
Milo Parker as Roger matches Ian McKellen's brilliance ever so wonderfully that is enough to watch their interplay. However, you'll find yourself yawning at times during the film. But that soon passes with a chuckle here and there as only Brit humour can make you chuckle.
The mystery sub plot is rather uninteresting and dull but that's not what this film is about. It's about a brilliant man who realises he's alone in the world and no amount of sleuthing can fix that.