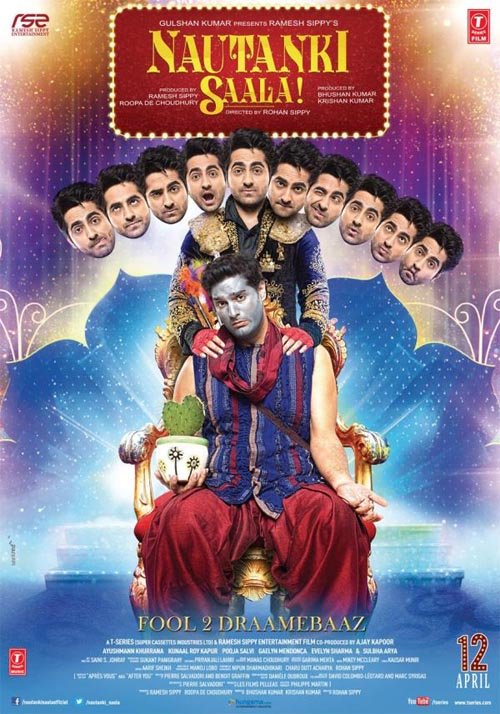 <Review by: Swati Sharan>
Directed by Rohan Sippy.  Starring Ayushmann Khurrana, Kunaal Roy Kapur, Pooja Salvi, Gaelyn Mendonca, Evelyn Sharma
Based on the French drama Apres Vous, Nautanki Saala narrates the escapades of a good samaritan Ram Parmar (Ayushmann Khurrana), a Nautanki actor who has the heart of Ram though his job is to play Raavan in the glamorous Broadway-like run of the Ram Leela.  One day, on his way back home, Ram rescues Mandar Lele (Kunaal Roy Kapur), a man trying to hang himself and takes him into his home with hilarious encounters to follow.
Recognising Mandar's low self-confidence and broken heart, Ram sets about fixing it all in a way that only a dramebaaz soul could by using his impromptu skills in real life. This includes passing Mandar off as the next Amitabh Bachhan by giving him the role of Ram when he's too nervous to even speak. But through such kinds of antics, he finds himself skating on thin ice between his drama company, Mandar's ex-girlfriend Nandini (Pooja Salvi), his own live-in girlfriend Chitra (Gaelyn Mendonca) and Mandar. What enfolds are a series of comedies.
The film has a very enjoyable feel with many light-hearted moments. The style of the comedy reminds one of the 70s/80s style that one would see with figures like Utpal Datt, Hrishikesh Mukherjee or Satish Shah but with a modern urban twist and somewhat blasé touch. The movie seems to be living up to the modern trend of comedy that has been setting back in once again with movies like Bol Bachhan, Chashme Buddoor and so on. The songs are catchy and exhibit some westernised husky and sultry singing such as Dil Ki To Lag Gayi ,Dhak Dhak and Saada Gali. Ayushmann has delivered a sweet performance with his Punjabi song Saada Gali with Neeti Mohan.  There are also some old remixed tracks like So Gaya Ye Jahan (Tezaab) and Dhak Dhak (Beta), which are part of a long-standing trend of this era.
Now there are some parts of the film that seem a bit too unrealistic such as the amounts of money Ram is seen spending given that he's a stage actor but then maybe that's not the focus. And that's perhaps what's separating it from the era of 70s/80s comedy that was more down to earth. As well, it would have been nice to see greater character development of the female roles though the actresses (Gaelyn, Evelyn, and Pooja) have all done a good job with what they have. Pooja is seen in limited appearances while Evelyn's role has a more glamorous component to it. Gaelyn has perhaps had the best opportunity with this and shines in a way that many glamorous actresses have never been able to with larger roles.
Ayushman holds a lot of promise and the future will see him more seasoned.  Kunal also performs fittingly as a defeated and insecure individual though some have argued about his Marathi dialogue delivery.  Philosophically, one wonders if Chitra's a modern Seeta with her Ram wanting to be an idealistic person ceasing to listen to his own wife when she cautions him about his tendency to take on other people's problems and eventually risks losing her in this pursuit.  One also feels the film could have ended a bit differently because it has a slight abrupt feel to it with an odd string loosely dangling.
By and large, the movie makes us wonder whether we will see a rekindling of a Jaane Bhi Do Yaaron class of comedy back in Hindi cinema in the near future. Overall though, this dramayan succeeds in entertaining. Cinema ki hai dua, Mogambo khush hua.