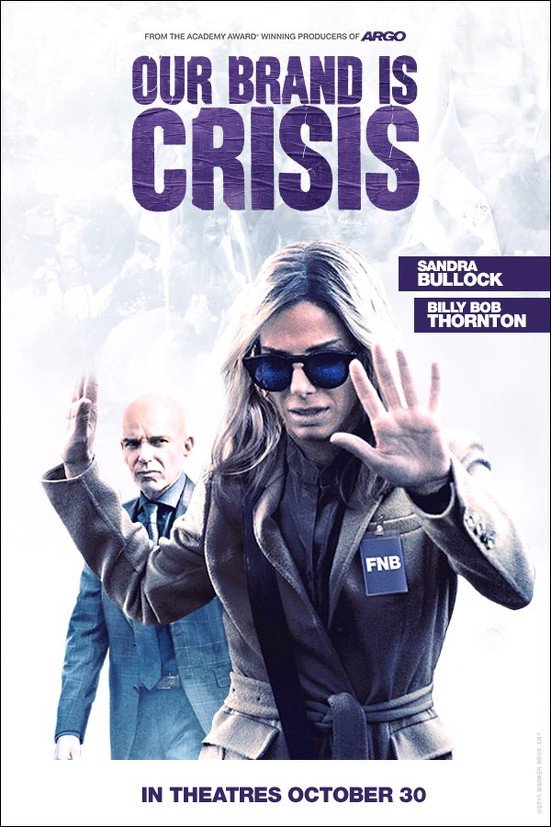 <Review by: Sailesh Ghelani>
Directed by David Gordon Green. Starring Sandra Bullock, Billy Bob Thornton, Anthony Mackie, Zoe Kazan, Scoot McNairy, Ann Dowd, Joaquim de Almeida, Reynaldo Pacheco
 Running Time: 1 hour 48 minutes
Considering America is in an election year and Donald Trump is a Presidential hopeful, we're all getting to see plenty of weird and distasteful campaigning happening, which sort of makes the plot of Our Brand Is Crisis look a bit tame.
And neither is the plot very original. Nor is it very exciting. In fact, if it didn't have Sandra Bullock and Billy Bob Thornton in it, it would be a terrible watch.
Bullock plays Jane Bodine, a star at marketing politicians up for election. But after various successes, 'Calamity Jane' faces a calamity of her own that leads her to mental trauma and retirement in a cabin far away from civilisation. Until of course someone, somewhere suggests her name as a strategist for Senator Castillo (Joaquim de Almeida), the former President of Bolivia now running for re-election and in dire need of a boost in the polls.
Initially reluctant, Jane soon throws herself into the mix; her arch rival Pat Candy, played by Billy Bob Thornton, is playing for the opposing team and she needs to prove a point. Tactics and tantrums fly across the screen as Jane unsurprisingly gets Castillo to the front of the pack while also getting drunk and jailed.
Bullock delivers as expected and is her usual clumsy, slightly depressed and down self. But there's way too much humour and goofing around during the proceedings for you to take the film seriously or even believe its contrived and formulaic finale.
Joaquim de Almeida's character of Castillo had room for more character exploration. It would have been interesting to see his layers unfold more but it being Bullock's film, his role is side lined, which is a shame.
We've seen far better films about political candidates and their henchmen working hard to get them up in the polls. As it is, Our Brand Is Crisis fails to take advantage of the less than familiar political scenario in a country that doesn't operate like the USA.