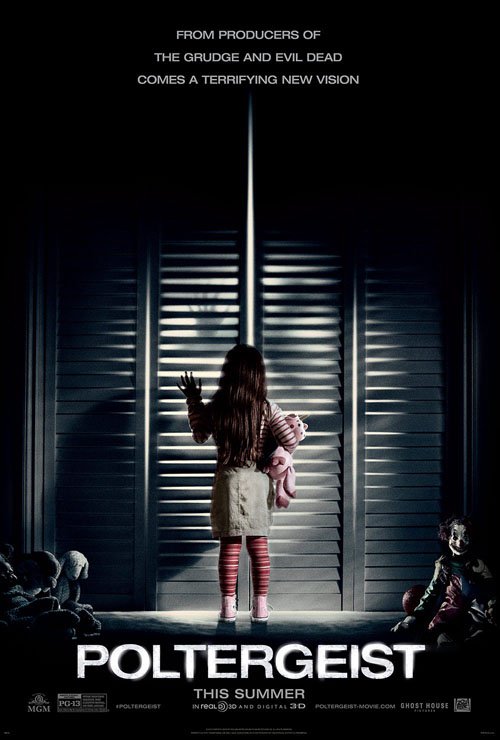 <Review by: Sailesh Ghelani>
Directed by Gil Kenan. Starring Sam Rockwell, Rosemarie DeWitt, Kyle Catlett, Saxon Sharbino, Kennedi Clements, Jared Harris, Jane Adams, Nicholas Braun, Susan Heyward 
It's kinda hard remaking classic films of any genre and in this day of clichéd horror films to remake a biggie like Poltergeist takes some serious balls.
And though this new Poltergeist opens with many of the same old scare tactics and tropes, it evolves gradually into quite a scary little film with some startling special effects and fun moments.
This new film about spirits who are angry and kidnap a child into their world – and that can be seen through the TV – has been updated a bit. The Bowen family has come under the heels of a poor economy and have to shift to a not-so-nice neighbourhood. An aside here: I always wonder how Americans can call a three-bedroom house with a lawn in suburbia 'a dump'. Have they seen houses in Mumbai?
Their new home exhibits some strange occurrences to the young inhabitants who, at first, just have fun with it. But very soon the young daughter of Eric (Sam Rockwell) and Amy (Rosemarie DeWitt), Madison gets pulled into her bedroom closet by the dark forces that are angry and stuck in limbo, waiting for an innocent to guide them into the light.
Their son Griffin (Kyle Catlett) who is scared of everything and eldest daughter Kendra (Saxon Sharbino) then assist their parents with the help of a group of paranormal investigators lead by Dr Claire Powell (Jane Adams) in what appears to be a slightly lackadaisical attempt to get Madi back. Still, the events that follow are a fun and creepy combination of scares and frights that are different from the usual.
A very interesting use of a drone and some rope deviates from the regular tactics used in scary movies. And a sequence in the other dimension with the gruesome spirits lining the walls and reaching out into the audience (courtesy some nice 3D) is pretty spooky and immersive.
I couldn't help thinking that stronger actors would have brought the film up a notch though. And also, the use of the clown in the promo poster is a tad misleading but the use of it in some promotional activities on the ground by the distributors in Mumbai was actually quite fun. Check out that video here or below.
Poltergeist may not be comparable to the original but as a scary movie that just happens to be called Poltergeist, it's an interesting modern-day sequel to that film and worth a good fright night.
PS: Parts of it are reminiscent of Paranormal Activity.
 Trailer of Poltergeist:
Promotional activity for the new Poltergeist film: