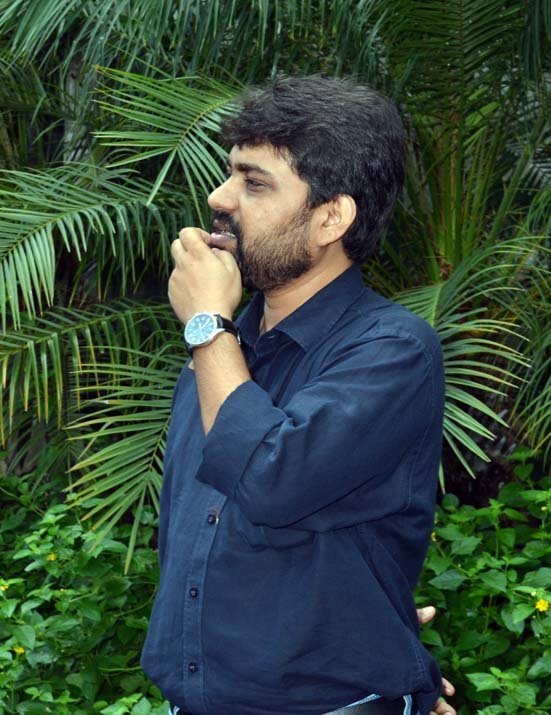 Ranjan Shandilya is the film director of Finding The Guru (based on Paramhansa Yogananda's book Autobiography of a Yogi) and the film Myoho. He talks to our Swati Sharan about fate guiding him into filmmaking and tells us how a docudrama is different from a movie.
What's your background? Where are you from and how did you get into filmmaking?
I come from a place called Motihari in Bihar. And I did my engineering from MIT Manipal but from the beginning I knew that I would not work as an engineer. So in 2005, I eventually moved to Mumbai.  And I started from there.
(Ranjan then remarks how it's good that I am doing what I like – freelancing – because at the end of it, you have one life and you should be doing what you enjoy).
It's funny that you say this because you're talking about one life yet you did a movie on a guru that reflected so many lives.
That's true. If you see it from a different perspective, you have one soul and many lives. So you can say one path and maybe one station and then the next and then the next.  When you learn then you move. So this life or the next life, it'll always be me. We'll go through a series of different experiences.
So is this what you feel you were meant to do in this life?
Yes. Absolutely.  And I am a person who absolutely believes there's no freedom. You do what you are meant to. You are just an instrument to do certain work to fit a bigger plan. And that's how it is.
Recently my mom passed away. So for the past two months, there's a bit of a perspective change. When you encounter death, you see things in a different light. Your perception just changes.
Indeed. So this must make you more spiritually reflective especially when you've worked on a project like Finding The Guru.  How did you decide to take on such a project?
I read the book. It all happened because there's one saying: 'ignorance is bliss'. I had no idea about how great that book is and stuff like that. I just felt that I loved this book and thought this is something that should reach the masses. And within my limited means, I thought I'd make a docudrama. And then there is the Ananda Society. So I met them and they said, "My child you can't do this," and stuff like that. So after hearing that, I felt completely free. I thought if I had to do it, I'd do it.
I had no idea about the greatness of this book or anything. As for spiritual inclination, I can't say I'm spiritual in any sense. I just realised this was something that should reach the masses.
So somewhere along the way, the subject appealed to you because nobody gave you this project to direct. So there would be some driving force somewhere right?
Ya. Actually when I started I had some 15 thousand rupees in my account. And somehow someone came and helped me and then someone else helped and so on. That's how it happened. Maybe there was some divine design.
That's the financial aspect but how did you manage everything? Because first you would need the money and then you would have to find the actors, locations and so on.
For Finding The Guru, we visited all the real places like the caves. I am not sure whether you know about Lahiri Mahasaya and Babaji. So actually we went to the real locations and shot there. So I get a lot of mails saying things like, 'We're from South Africa; it's very kind of you to show us what this place looks like.' It was nice. The approach was within our limited means to help people visit those places to understand the philosophy. And we didn't use any famous actors. They were all theatre actors who agreed after reading the script.
Where did this film finally release?
DVD.
Tell us about your film Myoho.
There's a saying Nam myoho range kyo. Myoho means mystic law. What goes around comes around. I wrote this very weird script. I kept fumbling for a title. It's based on two lifetimes. The first is based in 1915 in Bihar during the time of an earthquake. This part of the story takes place in one night with 14 people. They're all talking about how they feel life is unfair when the earthquake happens and they all die. Their next life then occurs during 26/11 at the time of the terrorist attacks of 2008. All of these people from the first life have been reincarnated. Even in this lifetime, the same group of people are feeling that whatever is happening to them is wrong but the audience understands that whatever is happening is not wrong but rather that these individuals are the ones who have created this karma. So then it seemed that Myoho as a title fit aptly.
So what inspired you to write this?
I don't know. It just came to me. Maybe the idea is in the air and someone may be thinking it and if your radio is tuned into that frequency, you may catch the idea. So someone must have definitely thought about it and it then entered into my radio or mind. This thought was there from a long time and it was brewing for 5-6 years. But people's opinions were that I should not make this film. People would say make a film with Salman Khan and then make Myoho when you become famous and established. Then people will understand or respect the film. And then I got a feeling to call my mom one day about this. I asked my mom which movie should I make first. She answered, "Make Myoho."
So it was good that I made this film when I did and that my mom saw it when she did. And she said, "You've made a really good film."
Did you face any difficulty getting funding for this film?
You see, when you don't have a star cast, you do face difficulties. People query why you are making such a film. To such people, I find it hard to explain that I am a film director. I am not selling potatoes or onions.
Famed Hindi and Punjabi film actor Kanwaljit Singh is in your film Myoho. How did you approach him?
This is a very interesting story. I didn't approach him. He approached me. I guess it's like the thought in the air. When I first started with Myoho, it was much like the case with Finding The Guru. I had no means of finance or any other plans. And when I started the first schedule, I still hadn't finalised anyone for the role that Kanwaljit played and that's when this was a main role. I was discussing the role with one actor who seemed the right fit but he was having date problems so he couldn't do it. And this actor was Kawaljit's friend and he mentioned to Kanwaljit that very night about how he liked this role but couldn't do it. Two days later, Kanwaljit's assistant calls me and mentions how he likes the storyline and would like to try for this part. So we met and that's how he got involved.
Any upcoming projects?
I have 3 projects to complete within the next 2 years.  Champaran is one of them and is an action film. Its star cast is going to be good. But I can't take names yet.
What's the difference between a docudrama and a film?
With films, creativity can be used more widely. Within a docudrama, you're working within a narrower framework so you can't deviate very far from it or you won't be true to the subject. I prefer films because I can enjoy it more from the creative perspective but for the purpose of learning, a documentary is a good place to start. In fact, I have a wish to make a series out of 64 tantras, which exist in our texts in the span of 64 half-hour episodes. Like for example, even touching on what Ram or Draupadi signify. So I am very excited by the process to spend 1 and half months researching a subject. It's stimulating.
We then conclude the interview leaving me reflecting on Shah Rukh Khan's tweet.  '… When you don't want things so badly… life comes to you.'