<Swati Sharan>
Day 1
My sojourn began with the Mary Kom press conference, which started about an hour late as Priyanka Chopra's flight was delayed. But being a thorough professional, she approached the conference with a great fervour and very even keel temperament. One would never have thought she had just landed especially with her lipstick so full and eyeliner intact. What was more was that she was due to leave Toronto later on the same day!
At the red carpet premiere for Mary Kom, I got glimpses of Priyanka Chopra and the director Omung Kumar. Priyanka was wearing a white and black dress, which was designed by Gauri and Nainika. Priyanka was met by throngs of fans waiting to see her outside on the streets in front of the Elgin Theatre near the Queen Subway Station, Toronto.
There were also some non-Indians waiting to catch a glimpse of Al Pacino on his way out. He was also in the same theatre for the premiere of his film The Humbling (he's also at TIFF for Manglehorn) that started playing a little before Mary Kom. It was also interesting to see a concerted effort of publicity for Salman Khan's co-produced film Dr. Cabbie while the premiere line-up was in place. This came in the form of a cab with a portable film billboard attached to its roof that a desi man was driving around.
Day 2
I got to see the talent from the film The Judge. Robert Downey Jr., who stars in the film, was extremely forthcoming and candid in the question and answer sessions that followed. Seeing Robert Duvall who plays a judge in this film was an extremely humbling experience. When asked about his taking on a more serious role, he argued that his background was in theatre to begin with so he was not deviating from anything.
I later met with the talent from the film Boychoir starring Dustin Hoffman as they graced the red carpet at the Roy Thomson Hall.
In the first lineup for the Q&A, we had Joe West, Dante Soriano, Sam Poon and Grant Venable.
What kind of training did you go through to be able to sing for this movie?
Grant: There was a lot of training. Just in the first few weeks of rehearsals, we were actually in the American Boys Choir School where he (pointing to Dante) goes. A lot of times we just listen to the American Boys Choir School and sit in the middle of all of them and just absorb it all.
Sam: We would play games for remembering pitch and stuff. It was like that one game where you press a note and sing it. It's called Simon.
Dante: So you sing a note and then it'll repeat your note and then you have to add another note on and keep on going till Simon gets out.
Joe: It was like being in the Boys Choir School as a whole a year but we smashed it into like a week.
Sometime after that, we had Garrett Wareing speak with us. Garrett plays the main troubled youth and protagonist whom Dustin Hoffman's character tries to discipline the old fashioned way. He's handling the dozens of media as though it were a cinch.
You seem to be as fabulous off-screen as you are onscreen.  I notice you know exactly what to say, handling the media with a calm that even many adults don't have. How do you do it?
Garrett: I just take everything in the moment. I just absolutely focus on the present. I don't think about it all much because if I did, I would get nervous.
We then had Kevin McHale come along.
You had all these highly talented people with you and you had a highly experienced actor like Dustin Hoffmann. How was it working in this set up?
Kevin (With a chuckle): I felt like I was sandwiched. But over time, I found I learned a lot from everyone.
Not long after, I asked Eddie Izzard the same question. He gave us an answer in a truly villainous style with a wonderful cackle.
Eddie: (Smiling villainously) At first, I was getting intimidated so I decided to intimidate everyone. But it didn't work. (Back to normal) Dustin and I liked the angle of our characters not liking one another. I play the role of the person who wants him to resign from the school and leave and possibly even die. (Ending with a light-hearted chuckle).
The director François Girard then gave us a moment and lots to think about.
Being grounded in a more traditionalist theatre style, how do you relate to the youth using video games to improve their musical talents?
François: Technology has no place in matters of the heart and soul.  Technology may impact us in terms of the speed with which we live and what we face. But the actual art is something that goes beyond technology and it comes from within.
In a matter of moments, Dustin Hoffman was rushed past us so that he could make it inside the theatre on time. With that, the day ended pleasantly.
Day 3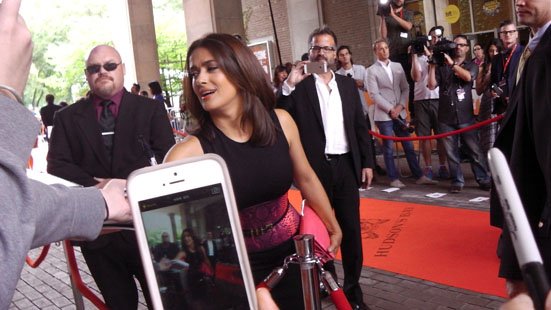 I got to take pictures of Salma Hayek at the red carpet at Ryerson Theatre for the film she's produced called The Prophet. It is an animated film based on the book by Kahlil Gibran with Liam Neeson and Salma having done the voiceovers.  I was lucky to be able to take pictures of Salma in action with her fans as she signed autographs.
Not long after, I went to the red carpet premiere for Al Pacino's other film, which is playing here at the festival, called Manglehorn. The film also stars Harmony Korinne and Holly Hunter. Minority-Review was spontaneously given permission to film the premiere introduction.
Harmony gave us a lowdown when I asked him what it was like working with Al Pacino.
Harmony: "It was great working with Pacino. He's one of the great actors. He's kind of an icon and has amazing energy. He really wanted to play around; very frenetic. It's cool.
I heard you mention you were working on another project after this…
Harmony: Yup.
Is there a name for the project?
Harmony: Yes. But I am not going to announce it yet.
When the great thespian Al Pacino's turn came, love was truly in the air.  As he stared on with those ever-expressive huge eyes and moved his hands ever so passionately, he would be the one to greet you. He shook hands with the male journalists but with the female journalists, he hugged them. Some had a sense of reserve about reciprocating the hug or would do so with great formality, but I was the complete opposite. Because I could truly feel his abundance of love, warmth, passion and expressiveness.
As Al Pacino tried to hug me he was being dragged away by others who were feeling the pressure of starting the premiere on time. So it resulted in a half hug and half air kiss! What a sweetheart.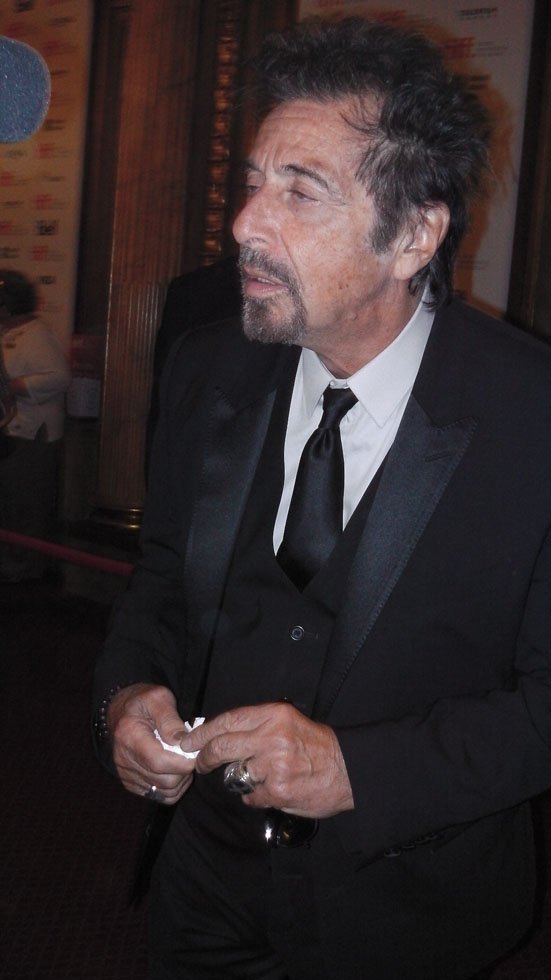 He is not someone to just speak with. He is someone you need to experience. He has such a great sense of inner stillness even when so many were getting tense because they were afraid of the programme not starting on time. Another thing I noted was that Pacino had a very distinguished personality where he could not be swayed so easily. He spoke so calmly and attentively with me. If anything, I was getting nervous because people around him were getting anxious to have him stop giving answers. But Pacino made me feel like a million bucks and put me at ease as though we knew each other forever.
As for the drum-rolling question, I asked him what his secret was for maintaining himself physically and in his career.
Al Pacino: "Well, having children and grandchildren help for maintaining myself physically. Now career wise, success brings you opportunities.  So then you have to discern which ones to take and which ones not to take. And I enjoy the luxury of doing a movie because I really love the part. You know, not because I have to do it."