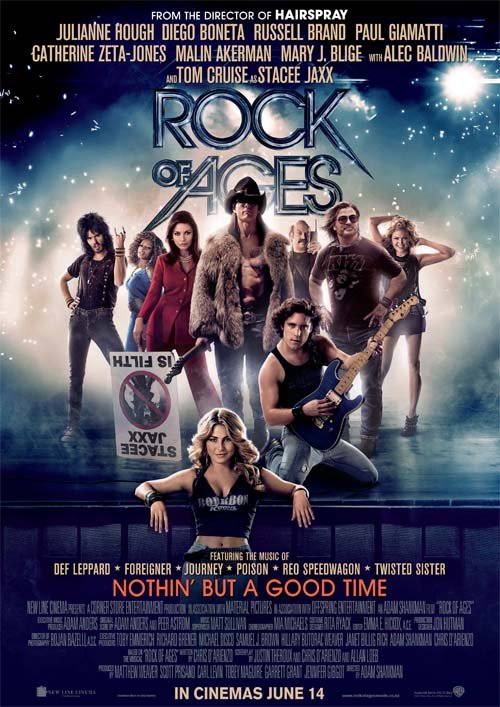 <Review by: Sailesh Ghelani>
Directed by Adam Shankman. Starring Julianne Hough, Diego Boneta, Tom Cruise, Russell Brand, Alec Baldwin, Paul Giamatti, Catherine Zeta-Jones, Malin Akerman.
The choreography of the dance numbers is uninspiring and the film has been shot with zero visual appeal. But if you're a fan of 80s rock n roll and Tom Cruise (when his acting is decent), then the spoofy Rock of Ages may just get your foot tapping.
Based on a 2006 Broadway musical by the same name and directed by Adam Shankman, who was responsible for the successful stage to film adaptation Hairspray, Rock of Ages makes an attempt to recreate what it was like for rock n roll at a time when the genre was associated with the devil, drugs, sleaze and church opposition.
Sherrie (Julianne Hough) leaves her small town of Tulsa, Oklahoma to find fame as a singer in Los Angeles. She ends up on Sunset Boulevard right across the (in)famous Bourbon Room – a den of supposed vice but also the breeding ground for several famous rock bands – where she gets mugged and subsequently assisted by aspiring rocker Drew (Diego Boneta) who offers to get her a job with him at the aforementioned den of vice.
For Sherrie this is a dream come true. For bar owner Dennis Dupree (Alec Baldwin) and his sidekick Lonnie (Russell Brand) this is just good timing since one of their waitresses just quit and they're dealing with financial bankruptcy.
The film starts off shaky and you wonder how on earth will they carry covers of these famous songs. Then there's the 'love' story between Sherrie and Drew that's pretty cliché now and unfortunately neither of the two actors rocks this stage. In fact, the real hero of the movie is Stacee Jaxx played by Tom Cruise. His dark, eccentric, sexed up rocker who is actually a sensitive guy on the inside is a treat to watch. Especially because it's a welcome change to see Tom Cruise playing a part that isn't… well Tom Cruise. He's sunk his teeth into this and at his age to look so good, to perform and sing so well and convincingly is outstanding. His sex romp with a Rolling Stone reporter (Malin Akerman) to the number 'I want to know what love is' is both funny and brilliant.
Alec Baldwin and Russell Brand provide the comic relief along with Stacee Jaxx's alcohol swigging monkey Hey Man. Paul Giamatti as the slimy manager is alright. Catherine Zeta-Jones looks a tad wasted in this role as the Mayor's wife who is fighting to close down the sleazy bars and rock dens that are rotting society. But she has a secret of her own. That bit is fun but her song and dance number isn't. Who did the choreography on this film? Serious blunder. And the visual brilliance of a stage performance is totally lost here. Singer Mary J Blige puts in a good performance as the strip club manager who takes Sherrie under her wing.
If you're looking for a movie that will make you chuckle, and if you're a fan of 80s rock, and if you love Tom Cruise then shake your booty over to the theatres today.