<Review by: Sailesh Ghelani>
After having two successful stores at Kurla and Malad, American cosmetics and skincare brand Kiehl's has opened their third at Palladium, Phoenix Mills in Mumbai. They had a starry launch recently with Sidhartha Mallya, Sameera Reddy, Rahul Khanna and Arjun Khanna.
Founded in 1851, Kiehl's has a dedicated following of customers who know the brand from its roots in New York City. They started off as a homeopathic pharmacy and then branched off into herbal and natural products for the skin and hair. They are owned by L'Oreal at present.
The first things you'll notice about the stores are the design and the products that complement that very science lab sort of feel. It's a polar opposite to The Body Shop that attracts you with the colours and fragrances of fruits and flowers. At Kiehl's the product packaging is distinctly understated with minimum use of graphics or pictures. It's more copy heavy, with type dominating the product. That's to tell you about the innovative cream or serum, and how to use it. It's more about the functionality than the aesthetics but they still maintain a unique style to their offerings.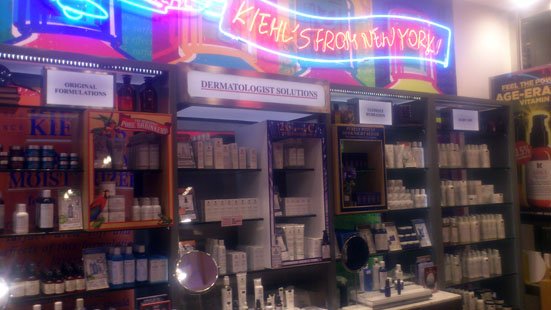 Kiehl's believes in letting customers try out the samples and even give out mini samplers so that you can go home and test them on your skin. But before that they give you a mini skin consultation at the store, which involves tiny testers they put on your forehead and cheek to test for how oily or dry your skin is. They will then recommend the right products for you. Seems like a good idea.
In America men form a major part of Kiehl's customer base but it's a bit more even here in India with women coming in and trying out the products. When I was there lady was busy covering her face in a cream and using the mirrors on the consult table to see if there was a visible difference. The store manager tells me that the men who come in apparently ask for anti-ageing products and creams to prevent skin dullness. The prices range from Rs 495 to about Rs 4000.
The store isn't very big but that shouldn't be too much of a problem. The staff seems to be very helpful and knowledgeable about the products and their benefits.
Apart from the unisex range Kiehl's has a dedicated shelf of products just for men. I thought the shaving cream was particularly innovative in that you don't need a shaving brush for it. You just apply it to the face and shave, which is great for all those guys who don't like using the brush. They also had this massive exfoliating bar of soap: no girlie strawberry scented tiny red bars here. The men will be happy for that.
There's also a line of baby skincare products for those of you who didn't know.
Kiehl's Clearly Corrective line of products is hot-sellers and so are the anti-ageing serums like the Powerful-Strength Line-Reducing Concentrate and Midnight Recovery Concentrate.
More store pics: