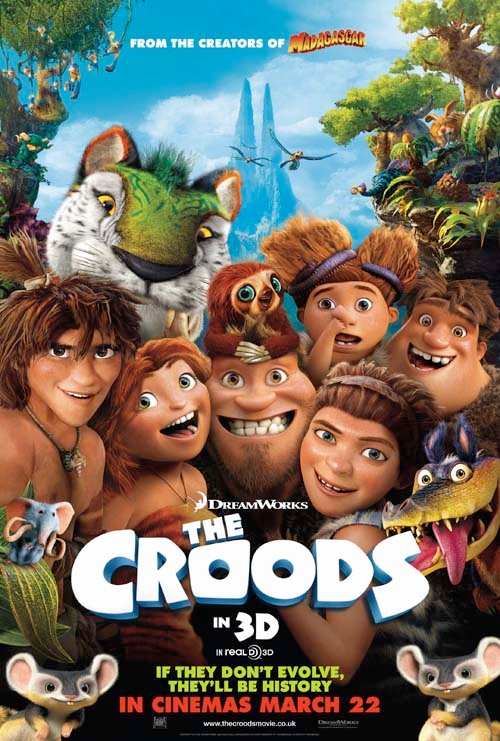 <Review by: 
Sailesh Ghelani
>
Directed by Chris Sanders and Kirk De Micco. Starring Nicolas Cage, Emma Stone, Ryan Reynolds, Catherine Keener, Cloris Leachman, Clark Duke, Randy Thom, Chris Sanders
A cross between The Flintstones and Ice Age, one would think this would be a rip-roaringly funny and interesting film. But it turns out to be slapstick and formulaic: good enough to visually thrill you and make you chuckle but you've seen it all before.
At the press show, the PR people brought in a life size, walking-talking character called Belt from The Croods to shake hands with us all. Unfortunately this 'very likeable' (as one of the audience commented) character from the film had very little screen time and didn't really impress like say a Scrat from Ice Age has left an indelible impression on us all. Can't think of an acorn without Scrat anymore!
Anyway, so we're back in the Stone Age with barbaric groups of cave men and women struggling to survive against the elements and giant predator cats. One such family is The Croods: papa Grug (voiced by Nicolas Cage), his wife Ugga (Catherine Keener), their chubby dumb son Thunk (Clark Duke), feisty grandma (Cloris Leechman), their rebellious daughter Eep (Emma Stone) and the toddler who behaves like a ferocious dog. To emphasise the darkness of the times, they illustrate with cave drawings how all the cave families are dying. So papa Grug goes to extremes to protect his family not allowing them to 'live' but just to 'exist'.
Of course young Eep has bigger dreams of the sun and hot boys. She meets one such hot boy, a real fire starter (literally!) called Guy (Ryan Reynolds) and his sidekick Belt – voiced by director Chris Sanders who was responsible for the hugely popular How To Train Your Dragon, Lilo & Stitch and Mulan – and then… you know what happens then.
Now since this is a time of change, namely the Stone Age into the formation of the Great Continents seismic upheavals threaten the Croods out of their cave and they must forge ahead with a little help from Guy to greener pastures.
Ho hum. At least The Flintstones was fun and Ice Age was clever (well the first two parts). The characters in The Croods are carbon copies of ones you've seen in 20 other animated films, the dialogue is cliché; the gags and slapstick are funny but give you a feeling of déjà vu.
What does pop out at you with the 3D is the magical world that almost looks like it has taken a page out of Avatar.
The Croods is a nice enough journey but you can't help feeling you've seen a lot better and you can't help wondering why Hollywood doesn't have any more unique stories. Award-winning Brave was the exception of course and another that comes to mind is Rise of the Guardians.