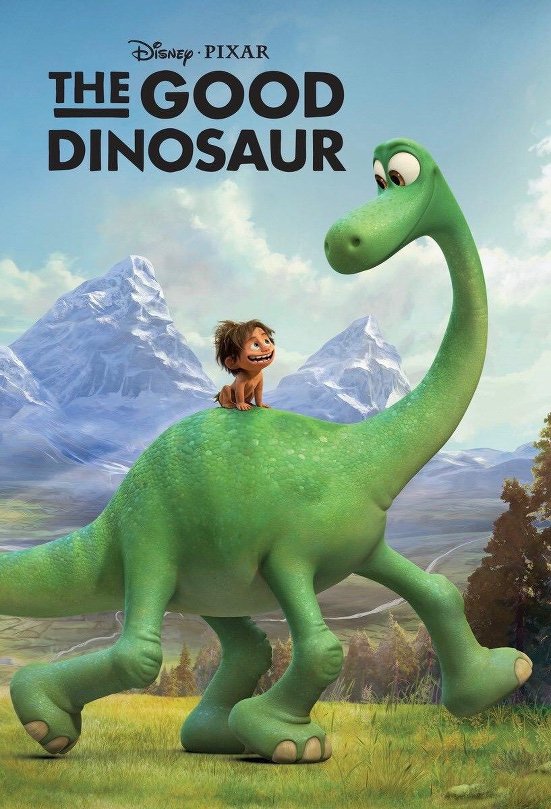 <Review by: Sailesh Ghelani>
Directed by Peter Sohn. Starring the voice talent of Raymond Ochoa, Jeffrey Wright, Frances McDormand, Steve Zahn, AJ Buckley, Anna Paquin
Running Time: 1 hour 40 minutes
At first, The Good Dinosaur seems like your regular cutesy animated film but it soon gets very dark and ominous, which is what I liked about it.
What if the asteroid missed earth and the dinosaurs didn't become extinct? You'd imagine a Flintstones-type of planet but The Good Dinosaur doesn't take that route. Dinosaurs live as families, cultivating the land with corn and reaping the rewards. Arlo (Raymond Ochoa) is the smallest of three siblings who is fragile and scared to make his 'mark' on the world. His Poppa (Jeffrey Wright) wants to teach Arlo to be brave and venture out. His first mission is to capture the 'critter' that's been devouring their corn. Turns out it's a boy child that behaves like a doggie.
Disaster strikes the family and Arlo soon finds himself lost. In this is where his adventure begins with a little help from his 'pet' sidekick.
The Good Dinosaur merges real life video footage with the animation to create a distinct visual style. The rocks and the water all seem very real while the dinosaurs are definitely animated. But it works in a weird way.
What I found interesting about the film was the dark and foreboding things that happen during the course of the story. And it's not done in a humorous way. Unlike what a lot of critics on Rotten Tomatoes are saying about the film being for kids, I think the movie is a tad disturbing for children too young. As a grown up, I found it chillingly gruesome and adult at times. But it is this murkiness that rivets you to the adventure that is scary and thrilling as well as heartening.
While The Good Dinosaur may not be excellent in terms of animation it is a welcome change to all the cutesy, fluffy offerings that we are used to and that decidedly dark tone is particularly effective.
PS: The regular short before the film called Sanjay's Super Team about an Indian kid's obsession with super heroes is pretty cool. It's directed by Sanjay Patel, who brought his love of gods as heroes to the film. Read more about Sanjay's Super Team here at wired.com.