<Review by: Pratyush Cavutur>
Two guitar players. One male. One female. Classical guitars and a style close to flamenco. These are the attributes that describe Rodrigo and Gabriela. I can't really pinpoint a particular genre though. They seem to have a lot of influences, which is evident when you listen to their covers of "One" by Metallica or "Stairway to Heaven" by Led Zep.
Calling this duo phenomenal would be an understatement. Sick of the limited music scope in Mexico, they moved to Europe and began their musical journey. They released an Extended Playlist (EP) called Re-Foc in 2002 and began touring extensively throughout Europe. Their first album (self-titled) released in 2006 and that rocked the music charts all over the world.
Anyone who has listened to this duo will thank god they did. Their music, their style of playing and the overall vibe they create with just two guitars is exquisite beyond imagination. Rodrigo plays most of the solo stuff and melody lines while the beautiful Gabriela plays the rhythm sections. Gabriela's right hand/left hand technique would pretty much put any guitar player to shame.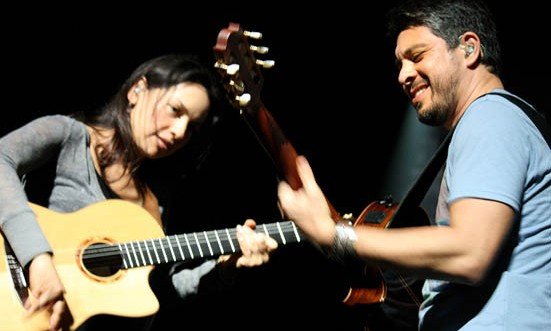 Their latest offering was an album called Area 52 which released 2012 where they collaborated with Cuban orchestra group C.U.B.A. The album features other artists such as Anoushka Shankar and John Tempesta amongst others. The duo took songs from their previous albums (in addition to a few new ones) and twisted and turned it in their own unique way. The song Hanuman from this album is powerful and groovy.
Syncopated grooves, wrist-breaking rhythm structures, melody lines that will hit your musical sweet spots from every angle possible are what their songs are all about. Their music has something for everyone. It will inspire guitar players, get Salsa/Latin dancers to shake a leg and soothe the souls of many who are looking for solace. Their live performances are something to watch out for: oodles of energy and a whole lot of fun.
Check out one of their videos:

Watch their performance on David Letterman's The Late Show: 
If you liked this post you can follow Pratyush on Twitter @thepratman