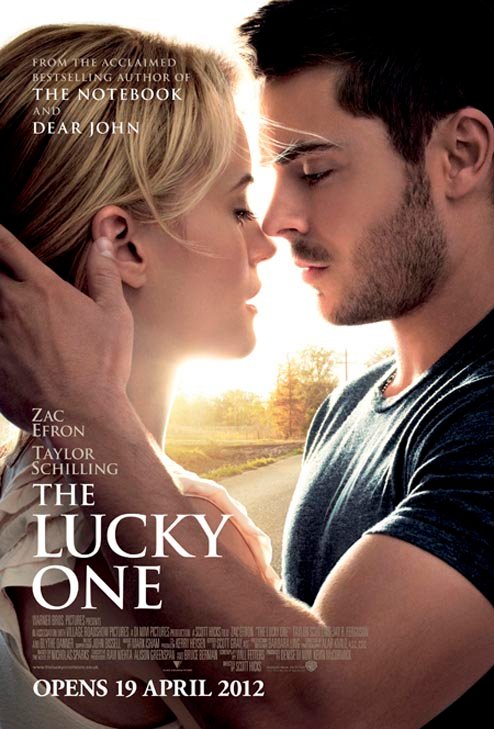 <Review by: Sailesh Ghelani>
Directed by Scott Hicks. Starring Zac Efron, Taylor Schilling.
In this 'novel' adaptation we see a war veteran with a lucky charm seeking out his 'guardian angel' and doing everything under the sun barring bringing the dead to life to impress her and finally make her fall for him.
9/11 and the Iraq/Afghanistan wars have given filmmakers a lot of material and inspiration for their films (this one based on a book by Nicholas Sparks). Logan (Zac Effron) is a Marine in one such war in Iraq. He survives a mortar attack because he gets up to go to something shining in the rubble, which turns out to be a picture of a girl with the words 'Be safe' written on the back. He can't find the owner, assumes him to be dead and lives through several other attacks thus nominating the mystery girl to be his guardian angel. He must find her and thank her, since after the war he's too traumatised to do much else.
Beth Green, the aforementioned guardian angel, works in a small town at a pet kennel with her grandmother (Blythe Danner) and son. It's not her husband who was killed in Iraq, but her elder brother Drake. Her husband is actually the bully-jock Sheriff Keith Clayton (Jay R Ferguson) who she is separated from. But of course he plays the bad guy in the movie. Because Logan takes up a job with Beth taking care of all the doggies at the pet kennel and then there's some heavy 'petting' of their own going on.
Chick flick, right? Yeah mostly. It's a bit slow but wonderfully shot and very scenic. Zac Efron plays his subdued but strong war vet character brilliantly. His face is so zen-like that you can almost see him play the Buddha. And he needs to be at peace with everything because Beth sure tests him. At first she barely speaks to him, and in another example of America's obsession with men having to 'prove' themselves to women, poor Logan has to fix up the kennel, walk the pets, scoop their poop, train them, fix a tractor, haul huge bags of dog food, play with her son, give him confidence to play the violin in public, repair her parent's old boat, stand up to her ex-husband Keith… and a lot more.
The problem is that Logan isn't able to get up the courage, or find the time, to tell Beth about the photograph and thank her. So of course you know this will become one of the plot's obstacle points. And it does. And she's angry when her ex-husband finds the photo and brings it to her. She's like 'this was for my brother, he was supposed to live, get out!' Umm okay, so it's his fault her brother died? Mind of a woman: WTF!
The Lucky One is suitably sentimental and moving, very sincere and the performances are all bang on and Oscar-nominated director Scott Hicks has done a good job piecing together what was probably not a very good book. I felt more for the characters than I did in this week's Statham film Safe. You just have to be in the right frame of mind to watch this movie and if you do you'll realise that it's not Zac Efron's character that's the titular 'one' but actually Taylor Schilling's character who is really lucky. After all, he did everything possible for her in this film short of dying for humanity's sins!