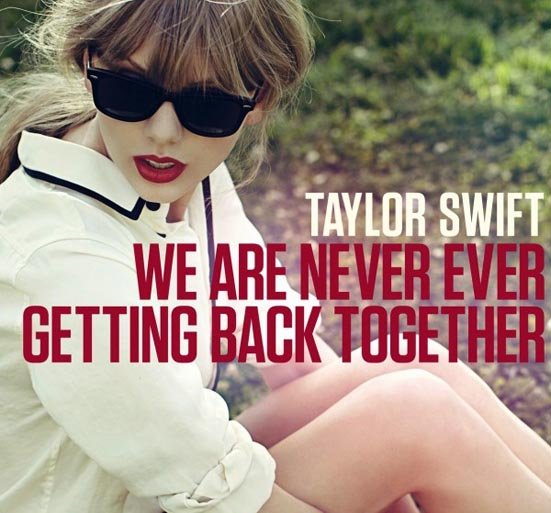 <Review by: Shourya, your resident music geek>
In case you didn't know (and you're probably fungating under a rock), the mighty Taylor Swift just spent another week at # 1 on the Billboard Hot 100 Singles Chart with 'We Are Never Ever Getting Back Together', the first single from her upcoming 4th studio album 'Red' due October 22nd. The Max Martin-helmed song marks her first # 1 single on the Hot 100, and Mizz Swift has been breaking quite a few records with the digital sales of the single, as 'We Are Never Ever Getting Back Together' becomes the most downloaded song in a week by a female vocalist, selling 623,000 downloads on the week of its release!
Swift thus overtakes Ke$ha's 'Tik Tok' which held the record with 610,000 downloads, and trails behind Flo Rida's 'Right Round' featuring an uncredited Ke$ha as the song with the highest first-week digital sales of all time with 636,000 downloads.
Check out the Declan Whitebloom directed video for the single that was shot in one continuous take with no edits, featuring a geeky Swift going through some very rapid outfit changes and keeping it cheeky with her stud of a boyfriend! Impressive indeed!

In case you enjoyed what you heard, you can follow ShouryaC on Twitter.