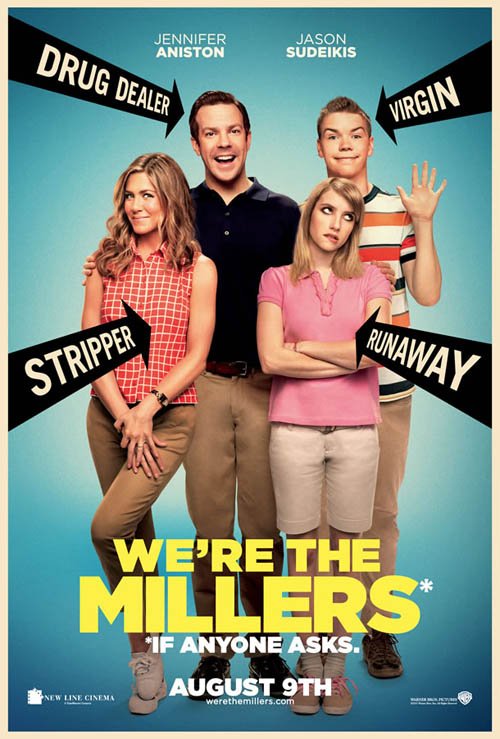 <Review by: Sailesh Ghelani>
Directed by Rawson Marshall Thurber. Starring Jason Sudeikis, Jennifer Aniston, Emma Roberts, Will Poulter, Nick Offerman, Kathryn Han, Ed Helms
Crossing the $100 million mark this week and clearly the best of the bunch to watch at the theatres this Friday (India releases), We're The Millers is a crass comedy that you can't help but laugh with.
Anytime you have Jason Sudeikis and Ed Helms in a movie you know what type of movie it's gonna be. And oh, who else do we have: none other than the most successful of the F.R.I.E.N.Ds cast, Jennifer Anniston. She's done a lot of movies hasn't she? Not all of them have been great but she's certainly out to prove something and she does it well in We're The Millers. For one thing she's out of her comfort zone playing a stripper (with a good heart).
When small-time successful pot dealer David gets robbed of his stash and money his boss, Brad Gurdlinger (Ed Helms), gives him a way out: Go to Mexico and pick up a 'smidgen' of 'mari-ju-ana' and say it's for Pablo Chacon. But what about border guards? David imagines that a Brady Bunch-type family in an RV wouldn't be suspected as drug smugglers (not dealers, because that's different!). So he sets about recruiting a 'family' of Millers.
David's neighbour Rose (Jennifer Aniston) is fine giving lap dances but when her bar tells her to have sex with the customers for money so they can compete with the Apple store across the street, she quits but realises she's in debt. So David's offer to pay her to pretend to be his wife makes Rose join him and his new from-the-streets 'daughter' Casey (Emma Roberts) and an abandoned young boy in his building 'son' Kenny (Will Poulter).
Blow jobs, ball-biting tarantulas, an erotic dance from Aniston, gold Porches, swinging couples in RVs, Shark-eating Orcas and a road trip that's mostly predictable ensue. You'll find yourself laughing at things you probably don't think you should be laughing at. But unlike The Hangover, this comedy isn't too sleazy and out there. It has its sentimental moments between moments of 'mother' and 'sister' teaching 'son' how to kiss.
Aniston looks very sexy in her lingerie but her whole erotic dance routine just doesn't go with her face, if you know what I mean. But then the filmmakers sorta knew that beforehand and that's what probably makes the ending believable.
Brit actor Will Poulter isn't your standard American kid, which is refreshing indeed. He actually stands out with his peculiar voice and looks and is even made the butt (and balls!) of quite a few jokes.
The thing is, whenever you watch a movie with comedic talent like Sudeikis or Adam Sandler or Sasha Baron Cohen you know you're going to find something to laugh at or some clever insight into human sexuality or sexual psyche or male-female dynamics that will be bang on true. It's just that we're all too 'proper' and 'politically correct' to admit it.
We're The Millers is a fun watch if you're not easily offended and has wonderful actors with some great comic chops. Stay for the end credits where they have outtakes from the film that are hilarious (some even funnier than scenes in the film).