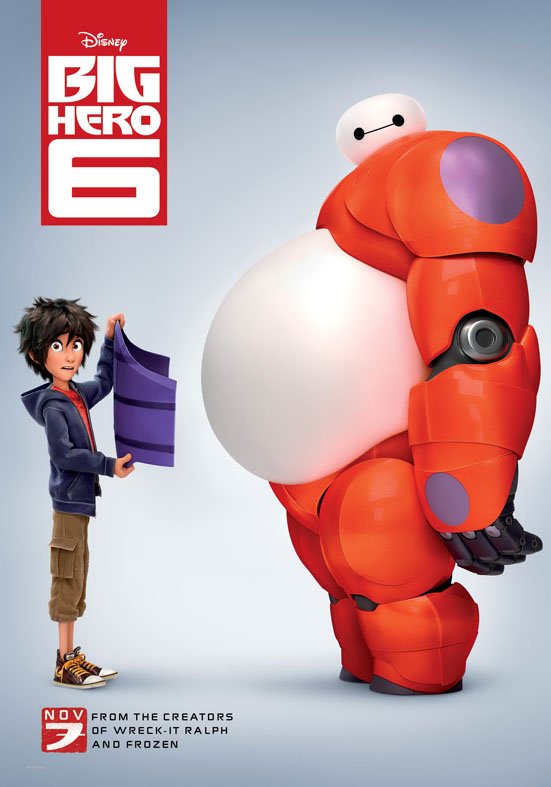 <Review by: Sailesh Ghelani>
Directed by Don Hall & Chris Williams. Starring the voice talent of Ryan Potter, Scott Adsit, TJ Miller, Jamie Chung, Genesis Rodriguez, Damon Wayans Jr, Daniel Henney, Maya Rudolph, James Cromwell, Alan Tudyk
Superheroes are everywhere nowadays and Disney is cashing in on it big time. They've bought Marvel so why not take advantage of the super studio.
Big Hero 6 is apparently a comic book from the Marvel universe (Read more about it here in The Hollywood Reporter's article: Disney's 'Big Hero 6′: A Primer on the Obscure Marvel Comic) that Disney decided was perfect to adapt for the big screen. It has candyfloss characters, a cuddly giant robot and lots of merchandising opportunities.
In a hotchpotch land of America and Tokyo called San Fransokyo (really!!) characters that are a cross between Japanese and American (but more American) live their futuristic lives. Tadashi (Daniel Henney) is a robotics engineer working with a group of nerds under the guardianship of Professor Robert Callaghan (James Cromwell). He's built a cuddly, balloon-like robot nurse called Baymax who responds to 'Ow' and gets to work healing you. Looks sorta like the Pillsbury Doughboy.
Tadashi's younger brother Hiro (Ryan Potter) is a genius but spends his time at Bot Fights where his robot toy fights other robot toys for money. But Tadashi wants his little brother to put his mind to better use and very quickly the plot moves along to Hiro being a success at the 'nerd school' and a random fire that kills the Professor and his brother Tadashi as well as his microbot invention. But very conveniently for the plot, Baymax is not at the lab but in Hiro's room.
Hiro bonds with Baymax and quickly discovers that the fire was sabotage and his brother's death wasn't an accident. So he sets out to discover more, in the process upgrading Baymax from a nurse to a slightly pudgy karate bot. His nerdy friends join in the adventure and they all 'woman up' as one of the friends says in yet another attempt by Disney to go from the whole Prince Charming thing to Frozen's 'woman power' theme.
Halfway through and all the candy induced adrenalin from the characters can get a bit irritating but it's still relatively fun to watch. You also realise quickly who the villain in the mask is that has appropriated Hiro's microbots and is hatching a sinister plot.
I loved the costumes they give all the 'heroes' – very different from the usual plastic accoutrements donning our avengers in other superhero films. And Baymax is simply cute and cuddly. Every kid will want a Baymax toy or cuddly toy of him.
While the style and visual delight of the film can't be denied I still felt that the story was predictable (including the tearful end that you know is going to be happy; wait for it!) and the characters were clones of ones you've seen before. I would've liked something new and bold. As it is, Big Hero 6 will serve its purpose, entertaining the kids and appealing visually to the older audiences who will get a kick out of the slightly retro appeal of this film.
Oh and the soundtrack is interesting though I'm not sure they included the very catchy 'Immortals' by Fall Out Boy (watch the music video here) because it matched the ethos of the story. They just put in there thinking a song like that may rub off just like 'Let It Go' did from Frozen. It won't though.
PS: As with all Disney films Big Hero 6 opens with an animated short called 'Feast' about a little doggie called Winston and his voracious appetite. I actually enjoyed this more than the main feature. The film also advocates adopting a pet, which is great. You can watch the First Look of the film 'Feast' here.