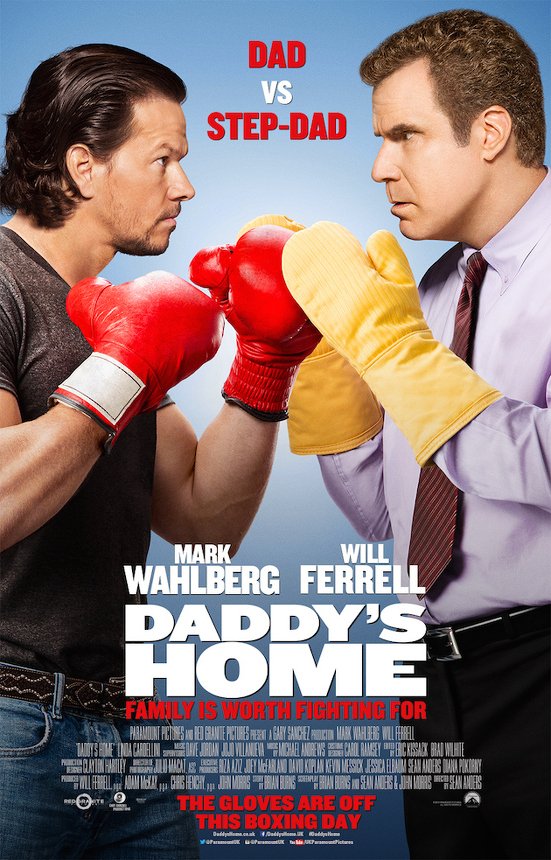 <Review by: Sailesh Ghelani>
Directed by John Morris & Sean Anders. Starring Will Ferrell, Mark Wahlberg, Linda Cardellini, Thomas Haden Church, Hannibal Buress, Owen Vaccaro, Scarlett Estevez
Running Time: 1 hour 36 minutes
Does Will Ferrell think he's the new Adam Sandler? And since when did Mark Wahlberg think he could pull of comedy just by pulling off his t-shirt?
In Daddy's Home, Will Ferrell plays Brad, stepfather to two little tykes and husband to Sarah (Linda Cardellini) whose previous husband Dusty (Mark Wahlberg) left them to go off on adventures abroad. Brad is trying to get close to his two step-kids but, out of the blue, Dusty returns with no rhyme or reason, to make trouble and regain his rightful position as 'king' of the manor.
Brad is all courtesy until he realises what Dusty's up to and then it's a love-hate relationship that drives the film along minus much good comedy. There's lots of slapstick and Tom & Jerry antics, but very little by way of actual wit or genuine emotion.
You'll chuckle a bit here and there and perhaps grimace at some of the tasteless humour courtesy Thomas Haden Church's Leo, who is Brad's story-telling boss.
Why on earth they keep coming out with this crap I can never understand. Mark Wahlberg may not show his age on his body but he certainly has the face to match it and is probably wasting what little talent he has trying his hand at comedy like this in the hope that people will watch him on the off chance he takes off his t-shirt! A great physique is something most male actors have in abundance nowadays and we know Mark does have a bit more than that to offer.
And Daddy's Home has some awful messages to send out to kids. Like being a good parent means being able to buy lots of presents for your children. And that's sad.