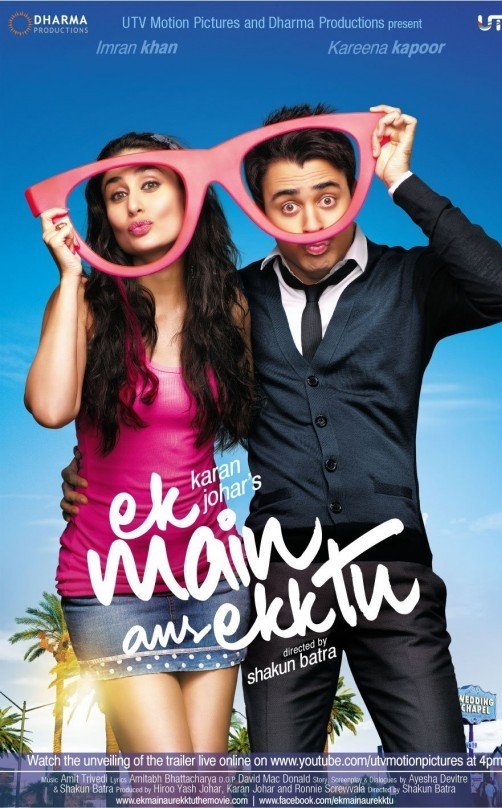 <Review by: Tushar A Amin>
Directed by Shakun Batra. Starring Kareena Kapoor, Imran Khan, Boman Irani, Ratna Pathak Shah
A sugar-free romantic comedy that makes up for its sluggish pace with its gratifying climax.
You sort of know what you are in for when a Dharma Productions film releases around Valentine's Day. The film's promos have already given away the premise – a straitjacketed guy and a free-spirited girl meet, get sloshed and get married in Las Vegas. Any true blue Bollywood watcher is experience-bound to put two and two together and resign to a rehash of What Happens In Vegas. Adapted for Indian sensibilities, of course! And that is where debutant director Shakun Batra and his co-writer Ayesha Devitre spring a welcome surprise.
Rahul Kapoor (Imran Khan) is Mr. Goody Two Shoes, forced to live a life that his overbearing and overcritical parents – a bully of a dad (Boman Irani) and a manipulative mom (Ratna Pathak Shah) – have chosen for him. Rianna Braganza (Kareena Kapoor), the free-spirited hair-stylist, is his polar opposite. She lives life on her own terms and does not believe in having regrets. When the opposites meet, Rahul has just been fired from his job. Rianna has broken up with her sixth boyfriend, is broke and about to be thrown out of her house. He finds her irritating. She finds him boring (and later 'average' – which according to her is his best quality). The two go out for a drink, get sloshed and end up getting married. Both agree that the marriage needs to be annulled but as they spend time together, the two lonely souls form a bond of friendship. Rianna acts as Rahul's friend-philosopher-guide while Rahul provides Rianna with a roof over her head. Rianna's vivacious ways force Rahul to come of age and stand up to his parents.
Taking the premise from What Happens In Vegas as a jumping board, Ek Main Aur Ekk Tu charts its own meandering course to a positively rewarding climax. Along the way, EMAET creates two endearing characters and gives us some genuinely inspired moments peppered over an above average Dharma Productions staple fare. Imran Khan's Rahul Kapoor and Kareena Kapoor's Rianna Braganza have all the trappings of Dharma-YRF stereotypes of faux global-urban-cool and yet, these characters have a distinct individuality about them. Imran is restrained and serves as a perfect foil for Kareena's cheerful, straight-shooter persona. Boman Irani is a bit over the top but effective in his portrayal of the money-minded, unscrupulous businessman father. Ratna Pathak Shah blends the quirks of her characters from Jaane Tu… Ya Jaane Na and Sarabhai vs. Sarabhai to create a mildly entertaining caricature of a mom.
Among the supporting cast it is Nikhil Kapur who steals the show as Kareena's father. He is hilariously real. But there is no escaping the fact that this film is Kareena's show all the way. Her vivacity is positively infectious and she dazzles in every scene with her pitch perfect portrayal. If you loved her performance in Jab We Met, you'd find this updated, urbanised version of Geet even more endearing. As these characters go about weaving a delicate and nuanced relationship, the only false note comes in the form of their lines, which often sound like direct translation from English to Hindi. Being a Dharma film, the production values are spot on as expected.
Though the film seems a bit sluggish in the first half, Shakun Batra displays a firm grasp on his craft. The climax truly comes as a pleasant surprise, given the fact that this is a production house that practically owns the 'ek ladka aur ek ladki kabhi dost nahi ho sakte' (a guy and a girl can never be just friends) premise. It is Shakun Batra's conviction in his climax that makes this film stand above and over the usual romcom fare. That, and the sunshine girl called Kareena.