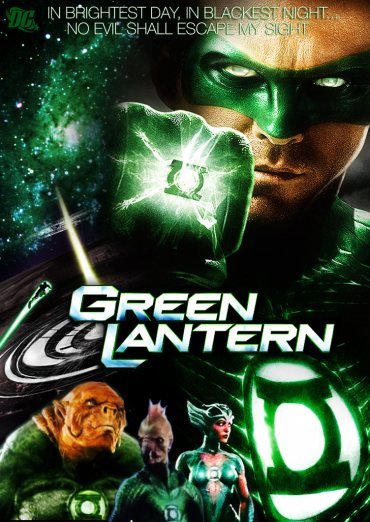 <Review by: Sailesh Ghelani>
Directed by Martin Campbell. Starring Ryan Reynolds, Blake Lively, Peter Sarsgaard.
One of the oldest superheroes and part of the DC comics' universe (Superman & Batman being the most popular) Green Lantern the movie tries too hard to enlighten us about the origins of these intergalactic police and does very little to entertain us. Overuse of CGI certainly isn't fun!
There have been several Green Lanterns in the comic book universe and this film by Martin Campbell (Casino Royale, The Mask of Zorro) chooses fighter pilot Hal Jordan (Reynolds) to show us the first human lantern. Yes, there are aliens of varying sizes and shapes across the universe who are part of a Corps dedicated to protecting the planets from marauders big and small. Green because apparently that's the colour of will power, which is what is harnessed to give them super abilities.
A fallen Lantern's ring of power chooses human Hal as its next owner because it sees something in him that even he cannot. Well as a viewer, neither could I. Don't get me wrong, Ryan Reynold's is actually the only thing good about the film. His comedic background coupled with some good acting lift his character out of the maze of Lantern lore and labyrinth of computer generated imagery that give the movie more of a cartoon feel. Even his suit is CGI. On set he just wore a grey spandex underwear type thing which had motion tracking sensors attached to it. The green suit was then pasted on top of that. Well maybe it's better than watching Thor in 'plastic' body armour trying to look all tough!
Blake Lively as Carol Ferris is his boss and love interest; but there's no establishing it, she goes from love-hate to totally all over him. Maybe it's the superhero outfit. Peter Sarsgaard plays Hector Hammond, the mad scientist who is infected by alien goo and can do evil stuff. Reminded me of Magneto from X-Men. But unlike X-Men, where Magneto and Professor Xavier's relationship is established beautifully, in GL there's no background to why Hector is envious of Hal and how they even know each other. Then there's Parallax, the CGI villain who feeds on the fear of his enemies. Growing bigger and meaner he's ready for some Earthlings. But Sinestro (Mark Strong) and the other Greens aren't too eager to help Earth. So wise-cracking, hunky Hal has to use his power ring and his 'belief in himself' to destroy Parallax single-handedly. And he does. Like in five minutes. No biggie. He has willpower. Too bad they don't establish that. Or show us some motivation. Or build it up instead of educating us on this intricate (even the comic book history is complicated though) race and their traditions.
See how a movie like X-Men: First Class managed to establish origins of the heroes, give us hefty doses of 'real' special effects and drama, establish characters and give it all heart; and of course without any 3-D (another argument for banishing the stupid format). Green Lantern in comparison is a Saturday morning cartoon that you probably wouldn't even want to wake up early for. The action is tame, the story banal, the characters lacklustre. Save for some witty one-liners from Reynolds and a promising arc with Sinestro as the bad guy, there's nothing that makes this film either good or bad. It's just okay. Which is the worst kind of film by far. I wish this evil escaped my sight!
Previous comments on this post: