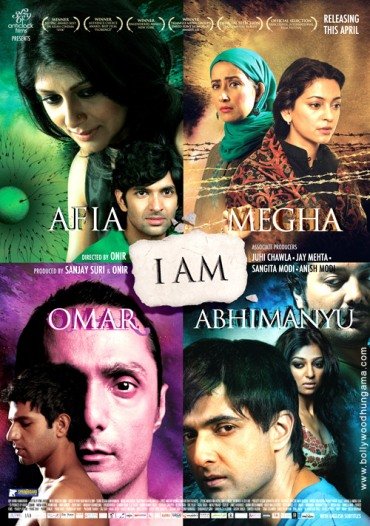 Directed by Onir. Starring Juhi Chawla, Nandita Das, Manisha Koirala, Sanjay Suri, Rahul Bose, Anurag Kashyap, Purab Kohli, Abhimanyu Singh, Radhika Apte, Arjun Mathur.
I AM is a film that utilised social media networks like Facebook to rustle up funds from random investors and got made on a budget and the cast and crew's magnanimity and belief in the product. It's not a Hindi film; it's an international offering (winning several awards) and gives India hope of a better and more varied cinematic experience in the future.
Don't generally do Indian films on Minority Review but we certainly cover 'world cinema'. And that's what I AM is in a way. And what's great about world cinema is that it usually depicts the country's tradition and flavour with a lot more poignancy and nuance than most regular commercial films do. But I AM isn't an art film, it has commercial leanings what with its star cast of veterans and talented newcomers. Onir and Sanjay Suri (producer/actor) have crafted four stories with a connecting thread. The stories are about a woman (Nandita Das) dealing with wanting to have a child on her own (Afia), a woman (Juhi Chawla) going back to a home that she has only bad memories of (Megha), a man (Sanjay Suri) struggling with his identity after being abused as a child (Abhimanyu) and a guy (Rahul Bose) dealing with his homosexuality in a country still very closeted (Omar).
And that's pretty much all I'll say about the stories because they're relatively short and well-defined. And see, that's what it's all about. I've watched plenty of international short films and what has always amazed me is how they manage to have a beginning, middle and end, all woven together seamlessly and beautifully with a subtle message or comment that hits home perfectly. Some of them achieve this in less than 20 minutes! Our regular Hindi films go on for 3 hours sometimes and say nothing or do nothing for you. At two hours, I AM delivers four moving and real stories that may touch you, enlighten you, repulse you or solidify your viewpoint on an issue. Sure you may like one story more than another — for me, Abhimanyu and Omar stand out — but you won't walk out feeling empty.
Sanjay Suri and Juhi Chawla have extremely powerful and moving roles, which they execute effortlessly. Abhimanyu Singh's performance is so convincing that if I ever do meet him for an interview I'll have to steady my hand to shake his! Kudos to Rahul Bose and Arjun Mathur for their make-out session in the car (Omar, clichéd but pretty much what happens), a scene that still made some viewers squeamish but that's only because we aren't exposed to it in our films. And Anurag Kashyap must truly be lauded for his cameo as the abusive father (Abhimanyu).
I must also add here that the film's music is lovely. Haunting at times, thoughtful and mysterious, Amit Trivedi, Vivek Philip, Rajiv Bhalla have done something very rare in our films: to elevate a nice film to a good one with the power of their music. The film may look a tad dated but that's more to do with distribution delays than any fault on the producer's part. 'I AM' is what you should be saying this weekend about whether or not you are watching this film.
For film trailer and more information visit: http://www.iamthefilms.com/
Previous comments on this post: