<Review by: Amit Divekar, a fashion designer and uber stylish guy with an eye for what's right and what's fright!>
Bravo Rocky! You put up an actual show! What with the dark frosty mystified backdrop. The gigantic trees bereft of foliage. The vintage dilapidated gate shadows, all very graveyard like. And the runway covered with dried fall leaves was so refreshing. For once a designer had a well-defined concept for his show. An environment, a different world, a complete ambiance was created. For once the smoke machines fazed out the advertisers/sponsors brands screaming for attention in the backdrop. It is heartbreaking how provincial and amateurish Indian fashion shows look even in 2012 when globalisation is peaking.
The lighting is always white, jarring and departmental store like. All designers show on the same runway! No thematic backdrops, no props, no innovative or relevant music. Just banners on a white wall in the background. Just sad! So with the Rocky S show it was brilliant to see that at least a sincere attempt is being made of presenting a well-furnished and well-finished show.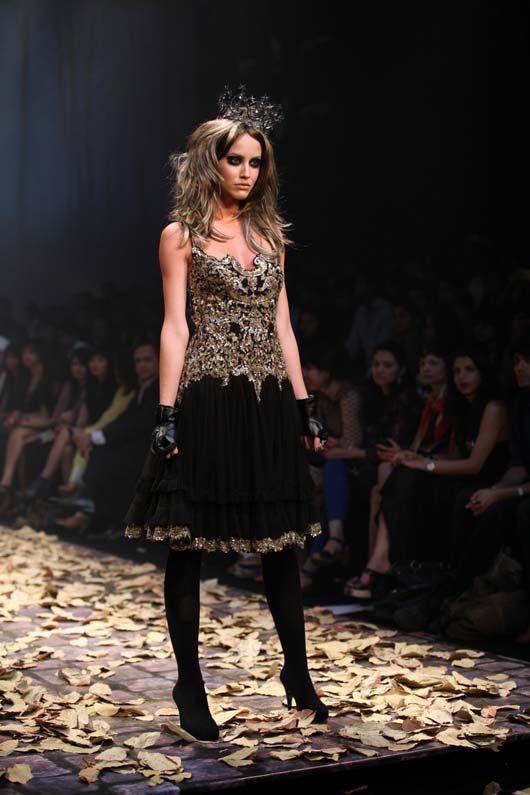 The look was zombie princess meets early days Madonna. But very tastefully done. With this concept Rocky could have bordered on tarty and grunge, but he treaded that line carefully, as all the creations looked rich and classy but with a dark 'fallen angel' edge to them. Almost reminded me of Micheal Jackson's 'Thriller' video where the corpses crawl out of their graves. But of course designer-clad fabulous corpses in this case. Theoretically, the theme of the show and look of the models was far removed from the outfits shown. But the culmination of the two certainly made an impact. 
Silhouettes were quite close to the body but often flowing below the waist. Lengths were mostly short or full length with long slits or asymmetrical cuts. Fabrics were mostly sheer; chiffons, georgettes, nets. The colours were neutral; black, white, asphalt and nude. Predominantly jewellery inspired heavy embroidery with beads, rhinestones and Swarowsky crystals, which added the right amount of sparkle. Like fire flies emerging from a foggy sky. A lot of fabric manipulation, texturing, ruffles, trims, fringes, tassels etc. Resonant of the tattered attire or a zombie.
It was a festive yet very western collection. Apt for a cocktail party or a night out on the town. Chic, sophisticated with ample indigenous bling. The laces, pearls, leather gloves, fishnet and above all torn stockings were straight 'into the groove' of Madonna in the 80s! And the diamante tiaras were like (literally) the cherry on top.
The make-up was befitting; very dark and Witch like. Lots of smudged kohl around the eyes, thick eyebrows, nude lips and almost sucked in contoured faces. The hair all undone, disheveled, frizzy and wild. The desired devilish look was definitely achieved.
All in all it was a great show that certainly made a statement, with beautiful looking wearable garments. A winner Rocky!  
 My favourites:
The opening white bridal gown (above) was beautiful! The sleeves with flirty uneven layered ruffles added a touch of romance. The rhinestone work around the bust and waist lent the outfit a sparkly edge. The laser cut flowers/vines all over the flowing gown looked delicate yet rustic and fraying. And of course the long slit added the oomph factor. It was a very simple yet distinctive creation. Almost like a 70s maxi dress.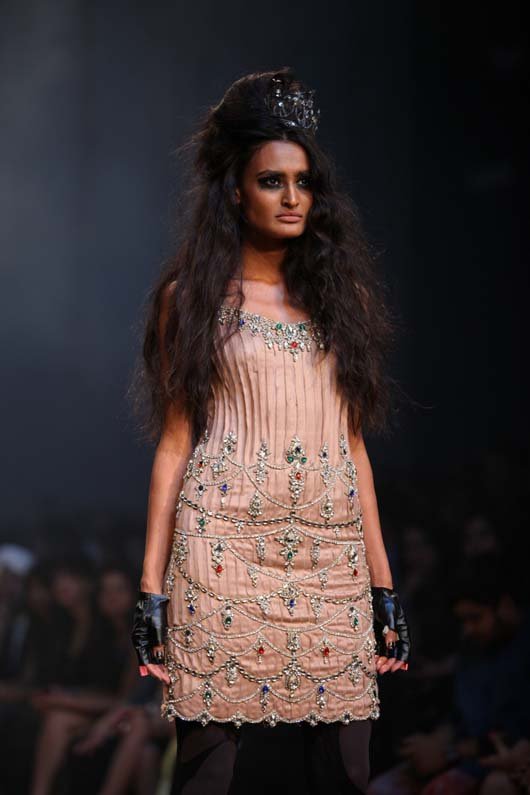 This creation (above) is trendy, dressy and stunning! I love the nude pleated fabric with the all-over symmetrical jewellery-inspired embroidery with colourful stones. The length and silhouette make it look like a 60s shift dress, but the intricate stone and pearl work carry it to another level of grandeur. It looks royal and fabulous. Definitely one of the top looks.
Absolutely j'adore this creation (above)! It's classic, sophisticated and sexy. The LBD with a whole lot of bling. The black pleated net with tonal heavy duty beading all across looks amazing! It makes for a perfect cocktail dress… oh so Burlesque! My mind drifts immediately to Liza Minelli doing a cabaret number in this superb number!