<Swati Sharan>
The screening of Learning To Drive by director Isabel Coixet was held at TIFF 2014 and we were there for the intro and the film. It's a story about a Sikh driver (Ben Kingsley) teaching an American woman (Patricia Clarkson) how to drive in New York after her husband leaves her. Clarkson spent almost 9 years trying to convince people to make this film.
(Ben Kingsley was not present for this screening)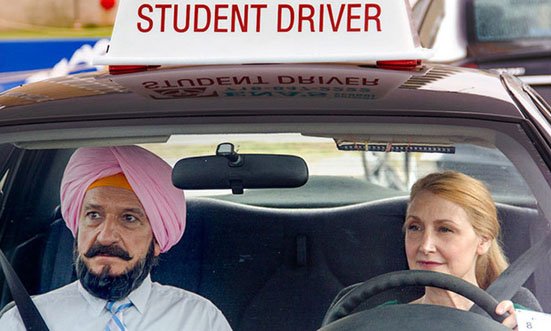 You mentioned Ben Kingsley's character to be from Queens in New York. That's a place with a largely South Asian population. How did you decide to zone in on Queens?
Patricia: The original article on which this story is based actually had a Filipino driver.
Daniel Hammond (Producer): The script writer, Sarah Kernochan, was associated with Harpreet Singh Toor who is a politician and was from that area.  They worked with the script. He gave us tremendous access. The wedding scene is actually filmed at a gurudwara. They allowed us to come and see and observe a wedding as we were doing preps so we wanted to make sure all the details were absolutely right.
Patricia: That's right. Everything was exactly right.
Daniel: It was a tremendous outreach from their community. We're so grateful they allowed us to see come into their lives, their neighbourhood and gave us so much for this wonderful work.