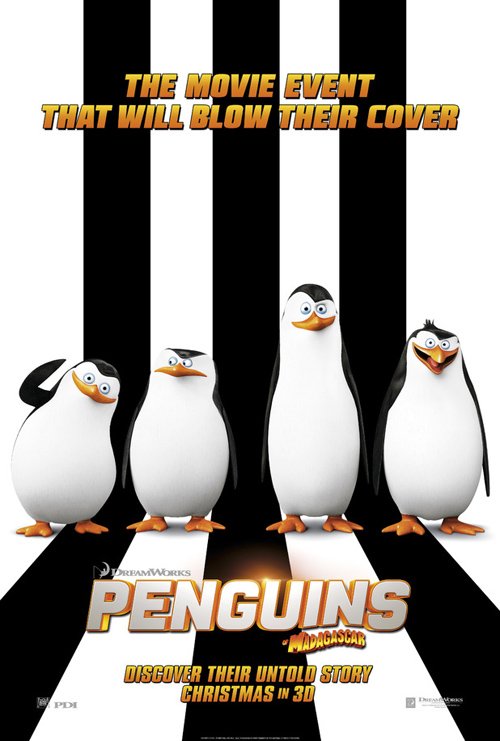 <Review by: Sailesh Ghelani>
Directed by JP Simon and Simon J Smith. Starring the voice talent of Tom McGrath, Chris Miller, Christopher Knights, Conrad Vernon, John Malkovich, Benedict Cumberbatch, Ken Jeong, Annet Mahendru, Peter Stormare
While they're brilliant in small doses in their main attraction film Madagascar, the penguins aren't quite good enough to carry an entire film. Even the filmmakers didn't think so…
And so they added a whole new team called the North Wind that is a parallel covert intelligence group but unlike the basic Penguins they're more high tech.
Without wasting too much time on showing us how the four Penguins – Skipper (Tom McGrath), Kowalski (Chris Miller), Rico (Conrad Vernon) and Private (Christopher Knights) – came to be brothers-in-arms we're skyrocketed or rather submarined into the world of Dave (John Malkovich), an octopus who can morph into a human and wants revenge on penguins who stole the limelight from him in a series of zoos he inhabited. Pretty flimsy and not so interesting since it's not even revenge on all penguins everywhere.
And so the Penguins and their new allies the North Wind lead by Agent 'Classified' (Benedict Cumberbatch) and his team have to stop the evil octopi from his dastardly plot involving zoo penguins.
Penguins of Madagascar goes through all the regular motions and chases and gags that you expect. Kids below 10 had the most laughs considering they've been exposed to the tuxedo birds on a TV show that's been playing on a cartoon channel over the last few years. As for me, I've still to see a truly unique and not-trying-too-hard animated film that doesn't rely on overly cute characters and silly jokes to make you fall in love with it.
The Penguins are funny but their charm was in the fact that they sometimes stole a scene from the main cast of Madagascar. They're brilliant in their cameos. It's like Scrat from the Ice Age films. He's that little bit of extra-comic relief or distraction. A whole movie on him may make him lose his charm and mystery.
The voice talent are adequate. John Malkovich is instantly recognisable and wickedly wonderful in his role. And if you want a Brit or British accent nowadays the go-to guy has to be Benedict Cumberbatch. I wouldn't be surprised if the North Wind team in this film ultimately get a TV series or movie.
I didn't have any fun in this film. The last Madagascar movie was infinitely funnier and better. Maybe this was a filler for the next one.
PS: It's a bit sad that the filmmakers haven't taken the opportunity to highlight the plight of animals at zoos. At least films like Happy Feet have a message in there for the kids and adults alike.