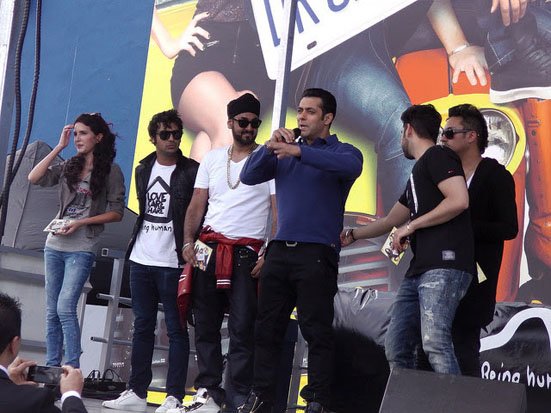 <Swati Sharan>
If Aamir Khan's fandom could be responsible for blocking up an entire intersection near one of Toronto's shopping meccas, Salman Khan's fandom could be viewed distantly from the '403′ highway above his venue.
Truly, the Khan brigade works its magic wherever it goes. In the thick of the heat and humongous crowd, we even had a few people passing out. This sight was at the music launch party for Salman Khan's co-produced film Dr. Cabbie in the outdoor parking lots of the Silvercity Theatre, Brampton. Here we witnessed a bevy of entertainment.
It started out with MC Superwoman introducing singer Raghav to the stage with 2-3 numbers. Following that were Manj Musik and his wife Nindy Kaur who sang upbeat songs including the Bullet Raja number Tamanche Pe Disco. And then the actual film cast arrived at the party dangling out of a cab before proceeding to the stage.
Kunal Nayyar (Big Bang Theory), Vinay Virmani and Isabel Kaif, who stars in the film, danced to the various catchy numbers when Salman Khan came on stage to hysterical applause. He then hugged the stars and introduced them to the audience. He introduced Isabel as "the younger Kaif". Khan praised Vinay's performance and encouraged him to go to Mumbai and act. "He's really good," he said.
With appeals from both the crowd and Vinay, Salman entertained us all with a medley of songs, which he sung himself including Yeh Zindagi, Tu Hi Tu and Jumme ki Raat. He concluded his rendition by stating: "Go watch the film Dr. Cabbie. It's a good one."
Salman kept his audience enthralled and wanting more. But eventually, the time came when he needed to go. Before doing so though, upon special request, he met with some fans with special needs and wheeled one of them across the parking lot portion in front of the stage.
Eventually, the remaining cast made their exit but posed for photographs with the cab from the movie first. Nobody wanted the party to end and they kept hoping to catch glimpses of Salman Khan on his way out. Truly, it was an afternoon to remember.
Take a look at our video from the event:

More pictures from the Salman Khan Dr Cabbie Event in Canada