<Sailesh Ghelani>
US brand Skechers sell their shoes in over 100 countries and has 65 stores across the world. They've been retailing in India for over a year now but you'd only find them in a corner display at Planet Sports, Metro, Lifestyle or a Reliance shop. So the good people at Skechers India have reached out to the media to show off their latest Spring-Summer Collection 2013 for men and women.
The lines are divided into three categories: Performance, Sport and Lifestyle. Then there are variants within each. Simply put, Performance is for walking, running and the gym. Sport is for well… playing sports, and Lifestyle is for everyday use. Although, Managing Director of Skechers India Sanjeev Agrawal says that even Sports and Performance shoes can be worn casually.
"Skechers is not one type of shoe. We have a wide range. We are driving the colours very strongly. They're nice and bright. Skechers is trying to push the shoes as fashion, which means you don't only wear the same old pair of shoes all the time to run or gym," says Mr Agrawal.
Also, Skechers were nice enough to send me a pair of Performance GOtrain shoes to review for the site since I mentioned that a gym test was probably the best way to find out how good they really are. You can watch the video on youtube here.
Performance
Skechers design is based on mid-foot strike so the shoe is designed to step on the mid-foot area unlike other shoes, which fall on the heel. That causes more pressure on the spine and back apparently. Skechers believes the best way of running and walking is on the mid-foot, so that's where they put the cushioning and the shoe is curved in that area. There are impulse sensors on the sole for impact absorption.
They all have anti-microbial lining to prevent odour and bacteria; you can wear them without socks and it absorbs sweat too. The shoes are also very light and flexible.
Within Performance you have GOwalk, GOrun (ride) and GOtrain.
Watch our video review of the Men's GOtrain shoes here.
Sport
Sadly, the men's Sport range are not as colourful/stylish as the Performance shoes since "slightly sober colours sell better with the masses, " according to Mr Agrawal. He adds that sports shoes are now becoming more casual so you'll see people teaming them up with jeans.
The Women's range includes plenty of colours though as well as some bling. There are definitely variants to wear casually as well.
Lifestyle
The Lifestyle range is about looks, with mesh, canvas or leather combinations. The chunkier bottoms are for outdoor use, which includes trail (but they're not waterproof). There are some nice ones in this range but some of the styles you'll also see in other local brands of casual shoes.
Skechers' Women-Friendly Focus
MD Agrawal says, "The fact is that Skechers makes a large variety of shoes, especially when it comes to women's. They're very colourful, young and trendy. They're not takedowns of men's shoes. They are specifically designed with feminine sensibilities. There's this one with the memory sole. It remembers the shape of your foot. So the women's range is detailed with glitter and eye catching designs. Compared to other sports brands, we do a lot more variety for women's sports and performance shoes."
I just checked out the USA website of Skechers and they have a huge collection in colours so varied you'd be spoiled for choice; hope they're available here in India soon. Check out this screen grab of a page on the site: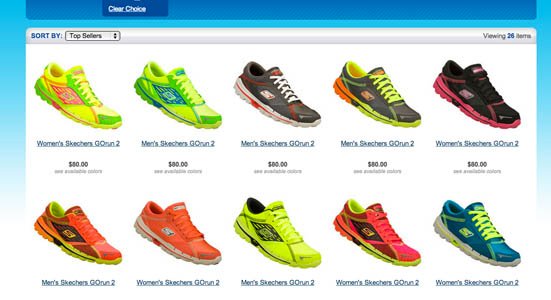 Watch this cool American commercial for Skechers' GOrun2 shoes:
Pricing for most of the Skechers line in India start at Rs 2999. The Performance range is above  Rs 4499 because they have a lot of technology stuffed in there.
Skechers' Men's range gallery
Watch our video review of the Men's GOtrain (pic above) shoes here.
Skechers' Women's range gallery