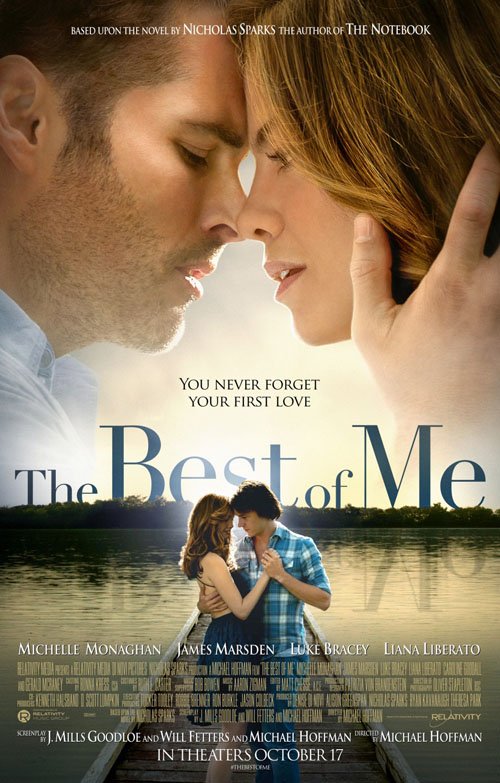 <Review by: Sailesh Ghelani>
Directed by Michael Hoffman. Starring Michelle Monaghan, James Marsden, Luke Bracey, Liana Liberato, Caroline Goodall, Sebastian Arcelus, Jon Tenney, Gerald McRaney, Sean Bridgers, Rob Mello
Nicholas Sparks' books and the subsequent films based on the books are a genre of their own. More for the 'young adult fiction' fan girls and less for real people.
This film is the worst kind of romantic movie in that it leaves you with really nothing. Neither does it show you a whirlwind romance that should stand the test of time but doesn't nor does it show you a happy ending where love triumphs all. You're supposed to bring tissues along with you but apart from one or two moments where I was channelling my own past I couldn't feel anything for the characters.
Dawson Cole (James Marsden) works on an oil rig that explodes but he is miraculously saved. Then he gets a phone call that his father figure Tuck (Gerald McRaney) has died at the age of 92 leaving him and his old girlfriend Amanda (Michelle Monaghan) his Louisiana cottage to divvy up between them.
Amanda is married but unhappy. Dawson is single and unhappy. They meet, and… well you know what happens. But Sparks then flip-flops between present and 20 years ago to show us how they fell in love and what happened to tear them apart. Not very deftly I might add.
The younger version of Dawson (Luke Bracy) doesn't look anything like the older James Marsden version in terms of height or build and neither do they sound or behave the same. This itself creates a huge disconnect between the two time periods.
Yes young Dawson didn't have a great family life – his drug-runner father burned him with cigarettes and beat him till he took shelter with Tuck. Predictably his new girlfriend Amanda (Liana Liberato) is rich and her dad wants to pay him off to stop seeing her. But this is not what pulls them apart. I actually don't even recall what exactly it is that… oh right he goes to jail.
The Best Of Me is actually the worst kind of romance story since all it does it propagate a sort of unrealised love that creates tragedy and pain and makes you think that it really can't be worth it. It is schmaltzy and cloying with a finale so contrived that you want to throw up at its unoriginality. It's boring and dull, too long and has absolutely nothing in terms of entertainment value or insightfulness. The girls will probably be happy to just stare doe-eyed at Luke Bracy who for the most part looks like they had no budget for a shirt. But that's just as well. At least there's some eye candy.
PS: Relativity Media has tied up with India's B4U to remake their films, the first one being The Best Of Me. Read more about here in The Hollywood Reporter: Relativity Media's 'The Best of Me' to Get Bollywood Remake (Exclusive)